The Art of Teaching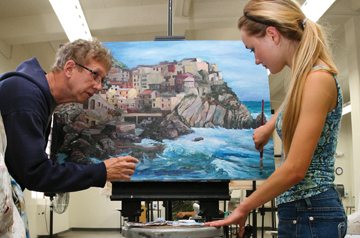 By Lori Putnam
CI Art Program Chair Jack Reilly began his career not with a paintbrush but with resin and spray paint. The Florida teenager was an avid surfer when he began to draw doodles on surfboards his friends were building in their garages. "The next thing I know, people started coming to me to make their surfboards," recalled Reilly. He founded Creation Surfboards in 1969, quickly growing his company into one of the few surfboard manufacturers on the East Coast at that time and a leader in experimental surfboard design.
He is still riding the waves today, only now Reilly brings CI students along with him. "You're looking at the water, and the layers of color, and it's a very aesthetic thing," said Reilly, who has been teaching "Zen of Surfing" since 2002. "I hope my students take away an appreciation for nature, as well as for each other."
For Reilly an appreciation for higher education came a little later in life when, at the age of 22, he walked away from his successful surfboard company to spend a summer studying art at the Paris American Academy. "That experience changed my life," he said, "I went back to college." Enrolled at Florida State University, Reilly began to paint life-size, three-dimensional portraits. His shows of these freestanding figures would be the start of an award-winning art career—a career that awaited him beyond the Sunshine State.
"I wanted to be a successful artist, so I had two choices: to go to New York or Los Angeles," said Reilly. As a child, he had lived in New York, so he thought that perhaps if you mixed the metropolis of New York City with the beach life of Florida, you'd arrive at L.A. With $300 in his pocket, Reilly left a teaching position at Florida State in 1978 and headed for Los Angeles.
By the early 1980s, Reilly had made a name for himself painting abstract illusionism. Fascinated with simplicity, geometry, and color, his signature style placed colored line work in a way that appeared to hover over geometric shapes. His work was featured in publications and art galleries across the nation. Over the years, Reilly explored other media including large-scale abstractions composed of multiple canvasses. In the 1990s, Reilly was commissioned to create a monumental-scale public artwork for the County of San Diego Arts Program and the American Airlines terminal at LAX.
Reilly would return to teaching, ultimately developing the first video/digital area of concentration at CSU Northridge. As one of the original faculty members hired at CI, Reilly advocated for the inclusion of art in the University's master plan. Nearly a decade later, Reilly oversees both the Arts and Performing Arts programs. "I'm proud of our academic programs," he said. "We have a nurturing culture here, an environment that is about self-expression and creativity combined with the latest in technology."
A few years ago Reilly held a retrospective of his work and came face-to-face with the freestanding painted figures of his youth. "They had been in a crate for 20 some years," said Reilly. "They were in perfect condition. I've aged but the people in the paintings haven't. Imagine: what you did as a kid will outlast you."