Turning the Page to the Next Chapter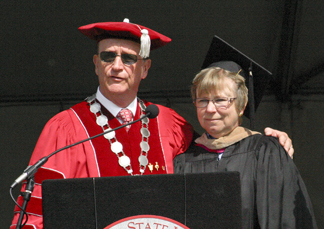 By Lori Putnam
When Joanne Coville arrived at CI to head its nascent administration and financial services in the fall of 2001, she had a budget but no ability to write a check. "We started typing checks on a typewriter with three-part paper," Coville recalled with a hint of laughter in her voice. "It made it very interesting."
Interesting is one of many adjectives Coville has used to describe her time at CI. The former university controller at Stanford University and executive vice president at Oregon Graduate Institute of Science and Technology was attracted to CI in large part for the opportunity to help create a new organization from the ground up. "It was just too intriguing, inviting, and delicious," she added.
Now, after nearly a decade of service, Coville has accepted the position of Vice President for Business Affairs and Treasurer at Scripps College. Scripps is an all-women college, and is one of five undergraduate colleges that comprise the Claremont Colleges in Southern California.
"Joanne was the first administrator that I hired 9 years ago," said President Richard R. Rush, "and she has been my partner ever since. She is a voice of prudence, innovation, and commitment to students, faculty, and staff." In addition to developing the University's finance, human resources, technology, and public safety departments, Coville also spearheaded updating the 70-year-old campus facilities and building new ones. Most recently, Coville led the initiative to acquire the power plant adjacent to campus with the potential of saving CI millions of dollars in energy expenses in the future.
Among her many accomplishments, Coville points to her team as one of her greatest points of pride. "I built a wonderful team of individuals who will carry on when I'm gone and they'll do a great job," she said. And although she regrets that state budget cuts have stalled the University's growth, she applauds the good will of the University community for continuing to move projects forward and the support from the Chancellor's office to help safeguard CI's future.
"The community has put in a lot of hard work," said Coville. "They have shown just general stick-to-it-ness." Coville should know as she herself has defined what it means to do things the CI way – with determination, ingenuity, and grace.