Engaging, Influencing and Moving Forward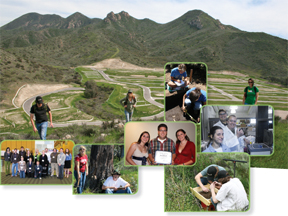 By Colleen Delaney-Rivera, Associate Professor of Anthropology and Nitika Parmar, Assistant Professor of Biology
The University's Mission includes the expectation that students engage in experiential or service learning while at CI. CSU students (in collaboration with faculty) conduct substantial research, scholarship, and creative activities. Via these activities, students learn to analyze issues, and develop the method, tools, and techniques appropriate to their specific academic discipline. While the foundation is the same, the flavor of the scholarly and creative activities actually undertaken by students varies widely across campus.
The outside world is a laboratory for some students. Archaeology students document human occupation in southern California over the last 7,000 years by walking and digging the local hillsides and fields. Environmental Science & Resource Management students monitor wetlands and water quality. Biochemists are collaborating with ecologists to study mother-calf interactions within Maui's humpback whale population. The traditional laboratory is the realm for others, such as Biology students who study disease-causing genes in human cells as well as compounds that slow the progression of Alzheimer's disease.
But scholarly and creative activities can take place anywhere. Economics students collect data from World Bank, US Census, and other databases to analyze relevant social and economic issues such as the squeezing of the middle class in the United States, and the impact of social business.
In addition to independent research, students also work on their faculty mentors' research. To date more than 100 students have participated in University 498 courses. In these faculty-student collaborative courses, students learn discipline-specific research methods while advancing the research agenda of a particular professor. Disciplines participating thus far include Anthropology, Art, Biology, Chemistry, Computer Science, Education, English, Mathematics, Political Science, and Sociology.
Finally, scholarly and creative activities at CI do not remain in the classroom. Students present their work in art galleries, research forums, and national conferences. For example, this past November, 48 students in six disciplines presented their work at the Southern California Conference of Undergraduate Research. Additionally, students from the Biology and Chemistry programs presented their research findings at the Annual CSU Biotech symposium at Orange, and three Art program students won awards at the CSU Media Arts Festival in Fullerton.
With continued financial and instructional support, students at CI will thrive as they undertake scholarly and creative activities. These activities will have a long-lasting impact on students and influence them as they move on to future careers.