Following a Passion for Business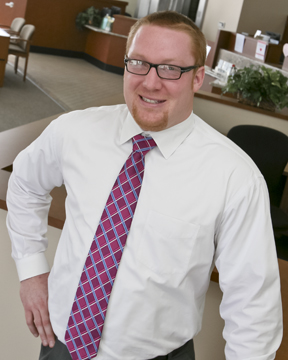 Bryan Easterly BA '06- MBA '08
By Lori Putnam
Bryan Easterly always had an inclination for business. He liked dressing up in a suit and tie, and numbers made more sense to him. So it is no surprise that Easterly has found his professional stride as Vice President for Community West Bank in Ventura, where he works with local companies in the $25 to $30 million range to grow their businesses. 
Easterly was born and raised in Ventura. His father, Jeff Easterly, is Vice President of Operations for Taft Electric Company where he has been for 35 years. The Ventura High Class of 2001 graduate left the region briefly to play football at the University of New Mexico. After sustaining an ankle injury, he returned home and completed his bachelor's degree at CI.  He earned his bachelor's in Business Management in 2006 and his MBA in 2008, all the while working full-time for County Commerce Bank. 
"Earning an MBA is not an entitlement, you need to get it for the right reason," said Easterly of the importance of education. "If you want people to think you can excel in business, you need an MBA." Looking ahead to the next 10 years, Easterly plans to stay in Ventura and grow with the community. "I really enjoy working in banking. Every day I hear a different story – whether it's a law firm, an orthopedic firm, or manufacturing company. Every day I'm helping these individuals follow their passion in business."
While the economy has been challenging for commercial banking and real estate, Easterly remains optimistic. "It's been tough but I think things are turning around for our local economy," he said. "We are independent from Los Angeles and San Bernardino, and companies are doing well here in Ventura. We just need to have some confidence."
His latest venture, however, has taken him out of the office. He and his wife, CI alumna Jessica LaRoe Easterly, welcomed their first child, Abigail Mae, on March 19. The Easterlys met as undergraduates at CI and both remain active alumni. Jessica is a former CI student body president and currently works for the American Cancer Society. She was recently involved with the Relay for Life event on campus honoring the memory of Dr. Stephen Lefevre. 
Brian is also active in the community, including serving on the board of directors for the Lions Club. However, he anticipates his schedule changing with the arrival of his daughter. "Things are going to change very quickly," he said with a smile.