The New Face of Nursing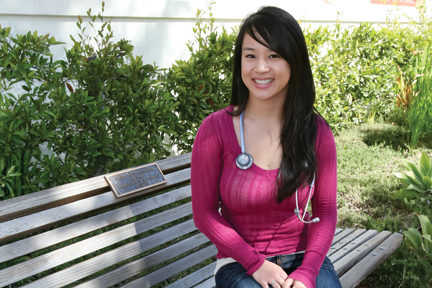 Christina Olaes BSN '11
By Lori Putnam
As CI and Cottage Health System welcomes their first bachelor's in nursing class in Santa Barbara, CI alumna Christina Olaes already will be on staff at Santa Barbara Cottage Hospital as a registered nurse. As a member of the second graduating class in the Bachelor of Science in Nursing program at CI, Olaes is part of the first wave of graduates in the only bachelor's program of its kind in the Ventura and Santa Barbara area. In just a year after graduation, she is quickly understanding the challenges and rewards of the health care field.
"There is so much responsibility on the part of nurses today," said Olaes, who will typically work a 12-hour shift on the orthopedics floor of Cottage Hospital. "We are our patients' advocates. Nothing really happens without us. We learn to work as a team, because we can't do everything on our own." 
The reward to the hard work, however, is having an impact on the lives of others. Recently, Olaes was faced with a patient who was scheduled to go home after knee surgery. However, Olaes and the physical therapist felt she wasn't yet ready and wanted to keep her another night. The patient didn't want to stay since her husband had spent the previous night in the car because they couldn't afford to pay for him to stay at a hotel. "She was sacrificing her safety for her husband," remembered Olaes, who then alerted her case manager. Ultimately Cottage Hospital paid for the husband to stay at a hotel the following night.
Prior to accepting her position at Cottage, Olaes was a clinical care extender at St. John's Regional Medical Center in Oxnard. During her time at CI, Olaes was involved in public safety outreach on childhood burns, in addition to participating in a number of community projects for the ALS Association, Relay for Life, and Habitat for Humanity. She hopes to continue to volunteer and ultimately earn a Master's degree.
"When I was younger, I didn't like hospitals but I've always wanted to do something with kids. I want to pursue pediatrics and, once my skills are developed, go into teaching," said Olaes. "I learned so much from my own teachers. You don't realize how much you know until the new students start asking you questions."