MVS Series Spotlights the Business of Collections
From vibrant paintings to rock and roll memorabilia and some wild animals thrown in the mix, the spring 2012 Martin V. Smith School of Business & Economics Speaker Series explored the business behind building and maintaining collections. The trio of guest speakers included actor and author Cheech Marin, Santa Barbara Zoological Gardens CEO and Director Rich Block, and The GRAMMY Museum® Executive Director Bob Santelli.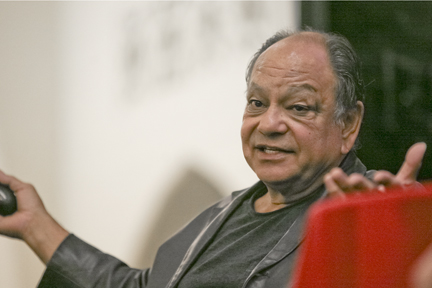 Art Collector
Best known for his work in the irreverent comedic duo Cheech and Chong, Cheech Marin has spent 20 years building one of the nation's finest private collection of Chicano art. In the process, he has also become a patron and supporter of emerging artists.
According to Marin, his interest in art began as a child. "I was raised Catholic and I can remember looking at the ceiling in church and seeing angels and clouds. By 10, I started to check out art books at the library," he said. "I had this idea that I wanted to be sophisticated as this little kid growing up in East L.A." 
From Boyle Heights to El Paso, Texas, the Chicano art movement reflected immigration patterns in the U.S. Marin describes it as "traditional Mexican meets American Pop". 
"Chicano art reflects what it means to see the world through Chicano eyes," said Marin. "Some people thought it was just a phase, but I said one day I'm going to put all these pieces in the same room and you're going to see the story." Marin has played a pivotal role in promoting Chicano art and now shares his collections with the larger public through traveling exhibits.

Animal Collector
"A living collection is really different," observed Rich Block in describing his work, which began at the Kansas City Zoo and ultimately led him to the Santa Barbara facility in 1998. At the top of his priorities is the welfare of the animals and maintaining the facilities for such residents as the 9,300-pound elephant named Susy and her roommate, 8,600-pound Little Mac. An estimated 450,000 visitors come to visit Susy, Little Mac, and 160 other species of mammals, reptiles, and birds annually.
Block manages a staff of 100 and a nearly $2 million endowment. He credits the support of the community for helping the zoo thrive, and sees his team as a core resource. "When you have people that are self-motivated, the biggest challenge is to make sure they have what they need and get out of their way," said Block.
Audio Collector
"There is no predictable career path for anyone in music museums," said Bob Santelli, and he should know, considering he's held leadership positions with the Rock and Roll Hall of Fame and Museum and Seattle's Experience Music Project. In 2006, the former Rolling Stone writer and author was recruited to create The GRAMMY Museum® in Los Angeles. Today, the museum has captured some 180 oral histories, 80 live performances, and may soon be featured on a cable series. 
According to Santelli, one of the biggest challenges facing any museum today is sustainability. He's exploring new business models that leverage unique programming, including "An Evening With…" series that has featured musicians such as Dave Matthews, Brian Wilson, and Annie Lennox. Taking calculated risks is something he learned from his mentor and former boss at EMP, Paul Allen. "He said it was ok to make mistakes and to take risks. But if you make a mistake, make it only once. And if you're going to take a risk, take a calculated risk that is thought-out." 
The GRAMMY Museum® currently features more than two dozen exhibits including a Songwriters Hall of Fame Gallery, an In The Studio hands-on experience, and a GRAMMY Awards exhibit.