Science Fascination Brings Student from India to
Southern California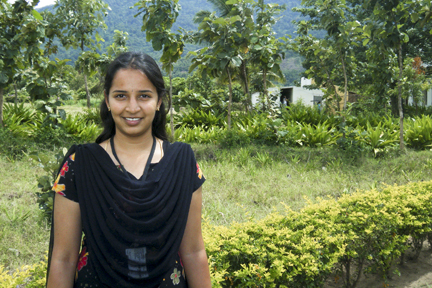 By Janet Egiziano, Director, Thousand Oaks Campus; Associate Director, MBA Program
Had Suharika Thotakura been born in her native India decades earlier, she would have lived an entirely different life than the one she enjoys today. As a female, she might have been considered too "delicate" for the rigors of study in a foreign country. Fortunately for Thotakura, the reserved culture of India's past has changed. "There is much freedom now," she says. 
Born in Hyderabad, the capitol of Andhra Pradesh, India's fourth largest state, Thotakura's big-city life had a small-town feel. "I lived near my high school and went home every day for lunch," she explained. Rather than being protective, her father, a deputy electrical engineer, taught her to stand on her own feet, to look for the positive in everyone, and instilled in her a desire to succeed.
Thotakura first ventured away from home to attend India's Karunya University, in another state 2,000 miles away, where she earned a Bachelor of Technology degree in Bioinformatics. Science is a long-held fascination of hers. "I'm curious about what's going on inside of us – about how food and drink affect our health," Thotakura explained. Her fascination with science, as well as a desire to study abroad, is what brought Thotakura to CI.
Through friends in the U.S., Thotakura heard that California was the place for science, and with companies like Baxter and Amgen, Southern California was a hub for biology. CI's MS in Biotechnology & Bioinformatics made it a perfect choice. Life in Ventura County isn't what she'd envisioned, though. "I'd imagined it was like Los Angeles, but I found that it's rural. The remoteness of the campus took a while, but I got used to it," she said. "Now I find it relaxed and quiet – a good place for studying." 
Thotakura works on campus, assisting a lab technician, prepping for classes, and attending meetings alongside faculty and staff insiders. Upon graduation, Thotakura hopes to land a research position with a large firm and remain in the U.S. for five to six years. When she returns to India, she plans to start her own company and, eventually, a non-governmental organization (NGO) that focuses on community health services for the elderly and orphans. "They are the ones in most need," Thotakura stated.