BA in Psychology at SBCC to Begin Fall 2012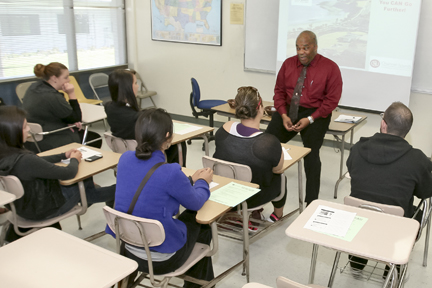 By Janet Egiziano, Director, Thousand Oaks Campus; Associate Director, MBA Program
Recruitment is underway for the BA in Psychology degree program offered through CI's Extended University on the Santa Barbara City College (SBCC) campus. Beginning fall 2012, the Psychology program will be the second undergraduate degree offered through the CI and SBCC partnership and will offer students an opportunity to earn a BA from CI entirely in Santa Barbara.
CI's Psychology Department chair, Dr. Virgil Adams, sums up the program in two words: rigor and fun. "The program is rigorous and intense because our expectations of students are high," Adams explained, "but it's also fun in that it provides opportunities for students to learn both theory and application by working on projects alongside faculty members, an experience often lost at larger campuses." Research topics currently undertaken by faculty that may be open to student participation include emotion and physiological hallmarks, social cognition, hope and well-being, and positive psychology, to name just a few. Depending on demand and interest, students may also have opportunities to earn elective credits through participation in international cross-cultural experiences through short-term
study abroad.
While the BA in Psychology affords its graduates a broad skill set that will help them succeed in various careers, the hallmark of the degree is primarily a gateway to graduate school. Program alumni are well prepared to enter into graduate degree programs such as a Master's degree in Family Therapy or Social Work, Juris Doctorate (JD), and doctoral programs in Psychology. Armed with a graduate degree, career possibilities in Psychology include careers in clinical, counseling, health, or social service as well as traditional opportunities in higher education, forensics, pre-med, consulting, behavioral neurosciences, and industrial organizational psychology.  
The BA in Psychology at SBCC is offered in an accelerated format whereby students attend year-round for 18 months. Classes are held on Friday evenings and Saturdays to accommodate working adults. The program consists of 50 upper-division units, and students must transfer to CI with 70 units including program prerequisites and general education. 
Information sessions for the BA in Psychology are held monthly on the SBCC campus and at CI's campus in Goleta. To attend an information session or to learn more, contact Melissa Whitacre, Program Representative, at melissa.whitacre@csuci.edu.