Celebrating CI's 10th Anniversary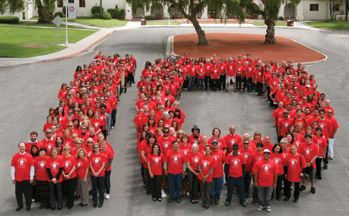 By Lori Putnam
It is said first impressions are lasting ones, and for President Rush that has indeed been the case for CI. "My first impression involved looking at the beauty of the site and thinking what a wonderful place to start a university," he recalled. It was the beginning of summer in 2001, and President Rush had less than a year to turn his first impression into a reality. He had a vision and he was looking for the right team to bring it to life.
"What I said to everyone at the beginning, and continue to say today, is if we're going to create a university, let's create one that we believe can exist – a place that is intellectually rigorous, serves student success, and that promotes fundamental human values," he said. In order to achieve this, President Rush counseled his colleagues to leave previous experiences in academia behind them and, instead, look ahead to the privilege and honor of creating a university for the 21st century.
Over the next decade, that forward-thinking attitude would produce a host of milestones and achievements by faculty, students, and staff that would place CI on the national map. First and foremost, the physical structure of the campus needed to be put in place. By August 2003, construction of a new science building had been completed.  A year later, the first on-campus student housing was opened for 450 students.  In spring 2008, the University celebrated the grand opening of the John Spoor Broome Library. By 2010, the student body had become actively involved in the creation of their campus and helped to open the new Student Union. Last month, the CI community celebrated a new main university entrance, a fitting closure to 10 years of growth.
Academically, the University has grown just as quickly. Accreditation, which is critical to any new university, began with the first Western Association of Schools & Colleges (WASC) site visit in 2003. Just four years later, CI achieved initial accreditation. New programs continue to be added as faculty garner state and national awards for their research. Just last February, CI Professor Sung Won Sohn was ranked among the top three economic forecasters in the nation by The Wall Street Journal. Other faculty have been awarded grants by the National Science Foundation and the Keck Foundation, to name just a few. And this has all been achieved in an environment distinguished for its collaborative and collegial nature, earning CI the honor of being named "A Great College to Work For" by The Chronicle of Higher Education.
Looking ahead, President Rush imagines even more for the University. "What do I want for CI? I want us to be a place that is significant, meaningful, and innovative. I want us to serve students so they can realize their dreams, change their lives for the better, and by extension, have an enormous impact on the regional and state level," he said. 
"Now I suppose that's an awful lot to hope for – it's what I wanted then and what I want now. We didn't aspire to be mediocre, we aspire to be great."
10th Anniversary public celebrations planned for fall 2012
August
24 - Convocation Ceremony
26 - Welcome Celebration
September
21 - Peace Pole Dedication
30 - Alumni & Friends Dodger Day
October
6 - President's Dinner 
8 - Student Success Week
11 - Campus Reading Celebration
12 - Family Weekend
15-16 - "Politics to the Extreme: American Political Institutions in the 21st Century" Keynote Speakers: Norman Ornstein and Thomas Mann
Early Fall
North Hall Dedication