Giving a Voice to Equality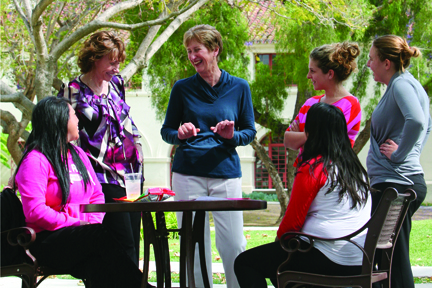 By Lori Putnam
It's an election year, which means there's no shortage of opinions on what direction the nation needs to take and who should be leading it. Or is there? Norma Maidel, former president of the Camarillo branch of the American Association of University Women (AAUW), would like to see more college students speak out on issues in time to make a difference in November.
"Young people are smart,"said Maidel, who is currently collaborating with Terry Ballman, Professor of Spanish at CI, to create a greater connection between the AAUW and the University. "However, I'm concerned that young women of today who have experienced certain rights do not recognize that it is a continuing effort to sustain these rights." 
For example, Maidel recalls that when she first started teaching in the early 1960s women weren't allowed to wear slacks to work. She also remembers being questioned as to why she was teaching in the classroom and not at home with children. "You don't want it to happen again," she added. Maidel points to recent events such as the de-funding of California's Commission on the Status of Women and the failure of equal pay legislation to pass in Congress as troubling signs.
The AAUW was founded in 1881 to advance equity for girls and women. Such issues as women's health, education, and equity in pay are priorities in 2012. "We want to educate the millennials about politicians' platforms and help them understand how these issues are important to their own lives," said Maidel. "We're making a strong effort to encourage the millennial-age person to vote." 
That's where Ballman enters the picture. The CI professor has always had a strong commitment to equity, and views the AAUW as a powerful vehicle for research as well as strategies in this area. "I want to see everyone empowered and treated fairly," said Ballman. One case in point is the continuing need for more women in the science, technology, engineering, and math (STEM) fields. The AAUW currently sponsors Tech Trek summer camps on college campuses nationwide to help engage and inspire 8th grade girls in STEM subjects. Approximately 800 girls attend each year. 
Ballman and Maidel see other opportunities for the CI community to get involved including participation of faculty, staff, and students in events and panel discussions. The AAUW of California has nearly 13,000 members in 140 branches including Camarillo, Ventura, and Thousand Oaks. CI faculty, staff, and any student with an associate's degree can join the organization. For more information, visit www.aauw-ca.org.