HLI Internships Offer Real-World Experience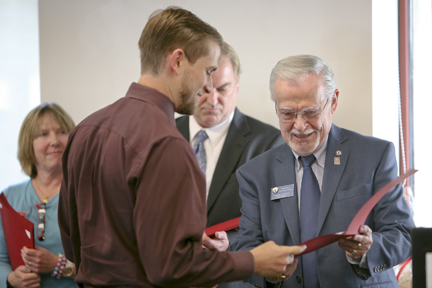 By Lori Putnam
When CI senior MacKenzie Garcia graduates this year, she'll not only get her diploma, but months of real-world work experience at the American Red Cross. That's because Garcia is part of the inaugural class of Henry L. "Hank" Lacayo Institute for Workforce & Community Studies (HLI) interns. This select group of CI upperclassmen have been paired with local businesses, government agencies, and nonprofits to gain invaluable work experience prior to entering the job market.

"I want to work for the United Nations," said Garcia. "My experience with a nonprofit this semester is a good place to start." As an intern for the major gifts director at the Ventura County chapter of the American Red Cross, Garcia has been given the opportunity to conduct grant research, help contribute to publications, and work on a block party event.
The internship program is one of the first programs launched by the Institute, founded in 2010 and named in honor of workforce and community leader Hank Lacayo. His decades of national service, as well as his ongoing commitment to CI, were recently recognized when Lacayo was presented with an honorary degree at this year's commencement ceremony.
"This program gives interns an opportunity to get hands-on experience related to their studies or interests," said Lacayo. HLI interns are nominated for the program by faculty and administrators, and undergo a screening process through Career Development Services. Students may choose to receive academic credit for the program, and all interns are paid through the Institute. Gary Cushing, a CI graduate and former chair of the Camarillo Chamber of Commerce, serves as a consultant for the program, by facilitating ties with local businesses from which to place HLI interns. Current participating organizations include the Cabrillo Economic Development Corporation, Wesley Thomas General Contractors, United Way, PBS Biotech, County of Ventura Climate Protection, and The American Red Cross.
The HLI internship program supports the Institute's goal of leadership development, according to HLI Director and CI faculty member Dr. Elizabeth Hartung. The other two initiatives are applied policy research through the HLI Social and Economic Research Lab, and policy education and community outreach.
"What the program offers employers are extremely well-qualified students who are matched so they can apply what they're learning in their field," said Hartung. Her hope is to see the internship program grow to 50 or more interns a year if funding allows. "This can be an institute for transformation," she added. HLI interns have been selected already for the Fall 2012 class.