Tenth Annual Commencement Ceremony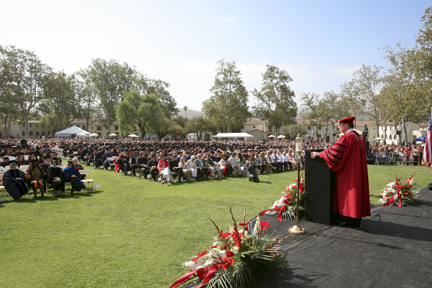 The University celebrated its tenth commencement ceremony on May 19 with nearly 12,000 parents, families, and friends who cheered on more than 930 students receiving their bachelor's, master's or teaching credentials. 
Maria Tauber, Director of Academic Personnel, was the honored staff member selected to ring the Navy ship bell to signal the beginning of Commencement; Dr. Marie Francois, Professor of History, led the procession by carrying the Light of Learning; and Dr. James Meriwether, Professor of History and Academic Senate Chair, served as Chief University Marshal; Sophomore Megan Cummings sang the National Anthem, and greetings in Spanish and Romanian were provided by graduating seniors Samantha Kern and Aurelia Serb.
Remarks were provided by CSU Trustee Debra Farar, President Richard Rush, and graduating Student Government President, Dulce Lopez. Honorary doctorate degrees were awarded to Hank Lacayo and Kathy Ireland. The ceremony concluded with the singing of the alma mater led by graduating senior and CI staff member, Raquel De Los Santos, accompanied on keyboard by the alma mater's composer, Dr. Ted Lucas.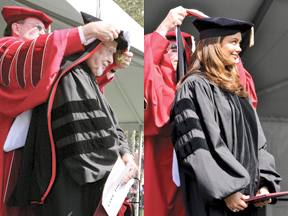 Left to Right: Hank Lacayo, Kathy Ireland.

Left to Right: Dr. James Meriwether, Dulce Lopez, and Debra Farar.

Left to Right: Dr. Marie Francois, Megan Cummings, and Raquel De Los Santos.