CI Partners with The GRAMMY Museum to Offer Students Insights into Music Museums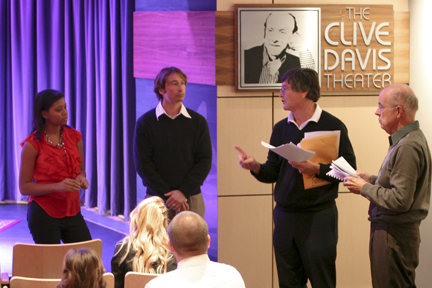 Members of The Music Museum class with economics professor Muraoka and music professor Lucas, discuss final exhibit presentations.
By Dennis Muraoka, Professor of Economics
The fall 2011 semester marked the initial offering of a new interdisciplinary course entitled "The Music Museum." This course, the first of its kind, was developed and offered in partnership with The GRAMMY Museum® at LA LIVE. Many class sessions were held at the museum, where the students learned first-hand from museum staff about a broad range of topics including music history, exhibit planning, design and fabrication, marketing, public relations, security, management, finance and budgeting, education, special programs, events, membership, and retail. They also attended special programs featuring GRAMMY-award-winning artists and a behind-the-scenes look at the world of popular music.
An important element of the CI mission is to educate students both within and across disciplines. To promote learning across disciplines, all CI students must complete three interdisciplinary courses, of which "The Music Museum" is an example. At CI, interdisciplinary courses address problems and issues using the methodology of more than one discipline. "The Music Museum" was offered jointly by CI's programs in business, economics, education, and music.  In "The Music Museum," students demonstrated their mastery of interdisciplinary thinking by designing an exhibit on jazz legend Charlie Parker and presenting their design to GRAMMY Museum® staff.  Dr. Ted Lucas and I taught the new course, and selected Parker as the topic of the student projects as Parker is not only a GRAMMY award winner, but also was a resident at Camarillo State Hospital.
The initial offering of "The Music Museum" was a great success for both CI students and The GRAMMY Museum® and the course will be offered again in fall 2012.