Popular Music 101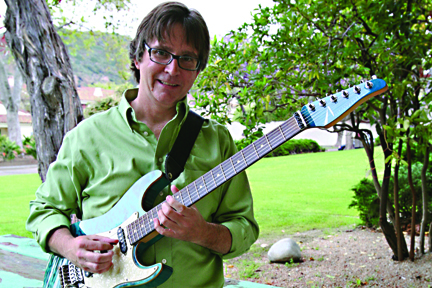 By Lori Putnam
What do Jazz in America, History of Rock, The Beatles, and World Music have in common? For CI students, the answer is faculty member Paul Murphy. He is the creative catalyst behind a series of courses at CI that fuse music education with an exploration of history and culture. Through his efforts, CI has played host to artists such as former Paul McCartney guitarist Laurence Juber and musician Eric Rigler.
The live performances began eight years ago when Murphy would invite fellow jazz musicians to perform with him in class. "I think it's important to see how professional musicians approach their instruments," said Murphy, who earned his bachelor's degree in Jazz Composition/Arranging from Boston's Berklee College of Music and his master's and doctoral degrees in Studio Guitar and Jazz Studies from the University of Southern California. 
"I remember what it was like to be a student. I always appreciated teachers who weren't just teaching out of a book, and that the topic meant something to them," he added.
"I think it's important to see how professional musicians approach their instruments," - Paul Murphy
Murphy grew up the youngest of six, with a father who was an amateur singer. He can recall a household full of diverse music, and discovered a passion in the guitar. After college, Murphy traded the East Coast for the West Coast, and quickly found professional camaraderie in Los Angeles through the American Federation of Musicians (AFM). Not only did the union give Murphy the opportunity to play with accomplished performers, it led to his playing two seasons as a guitarist for The Muppets Show Tonight, accompanying such featured guests as Whoopi Goldberg, Jason Alexander, Heather Locklear, and Dennis Quaid. 
While continuing to perform live and in studio, Murphy also lectured at Pepperdine University, Fullerton Community College, and the University of Redlands. By the time he arrived at CI in 2004, he had begun to envision classes that focused on popular music and culture – something that he experienced as a teaching assistant
at USC. 
"Now there's more acceptance in academia of popular music courses," said Murphy. With the added layer of artist performances, music education comes alive for Murphy's students. He now brings as many as eight guest artists a semester to perform on campus thanks to the CI Instructionally Related Activities fund.
"You can see the excitement on their faces when they go up and meet the musicians after the performance," he said. "It's one thing to see a video, it's another when you see a performance in person." 
Murphy is both a musician and teacher, but he is also a fan – something that his students can appreciate. "I bring my enthusiasm to class and my students can see I'm passionate," said Murphy. "I can see their perspective because I'm a fan of music too."