Persistence Leads to New Beginnings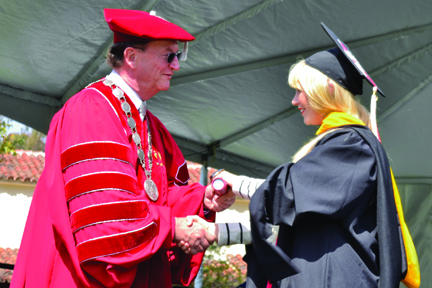 Springtime brings commencement, celebrating the accomplishments of our students and marking new beginnings. Likewise, your University celebrates the beginning of our next decade with a new entrance road, a record of outstanding accomplishment and innovation for the University, and the dedication of North Hall, our new academic building.
Last month CI welcomed nearly 12,000 family members and guests to recognize more than 930 students for their hard work and dedication in reaching their academic dreams. Some were the first in their family to go to college and to graduate. Others returned to school after years, even decades, fulfilling a dream long deferred. Many had raised children, cared for an ill family member, overcome illness and injury to themselves, or served our country while postponing higher education. For some, it was all of the above! 
No matter how we got here, one characteristic has united us all – persistence to achieve in spite of obstacles. Persistence continues to reward CI as recently we marked the grand opening of a new entrance road to the University and soon will celebrate the upcoming completion of North Hall at the start of the fall semester. Additionally, despite the state's continued budget uncertainty, CI has continued to thrive in delivering a high quality and innovative education to as many students as possible from this region and beyond. No obstacle will deter us in fulfilling our mission.
As the stories in this magazine illustrate, CI looks forward to new beginnings in all aspects of the University's life as we celebrate our 10th anniversary. With your help, I am confident that our persistence and dedication will allow us to do an outstanding job of serving our students and our community in the coming years. Please enjoy the stories that follow, and I wish you a safe and pleasant summer.
Sincerely yours,
Richard R. Rush
President