National Park Service Creates a Presence on the CI Campus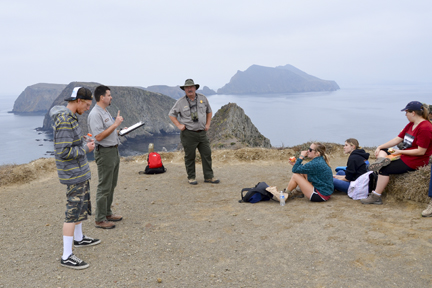 By Dan Wakelee, Assistant Provost
CI is now home to two National Park Service centers. The Mediterranean Coast Network (MEDN) and the Southern California Research Learning Center are located on the second floor of Solano Hall. Their web site is www.MEDNscience.org. National Parks provide unique opportunities for scientific research in areas that are preserved and protected, and can be studied as reference points for comparisons with similar, altered environments. Their purpose on campus is to collaborate with CI faculty and students to initiate collaborative research and monitoring studies, educational programs, and service learning activities in National Parks.
Stacey Ostermann-Kelm is Program Manager for the Mediterranean Coast Network of the National Park Service's Inventory and Monitoring (I&M) Program. MEDN includes three parks: Santa Monica Mountains National Recreation Area, Channel Islands National Park and Cabrillo National Monument. The primary purpose of the I&M Program is to establish and implement long-term monitoring programs on a subset of the physical, chemical and biological processes of park ecosystems that represent the overall health or condition of park resources. MEDN monitoring programs include vegetation, island foxes, reptiles and amphibians, deer mice, land birds, seabirds, water quality, kelp forests, and rocky intertidal communities. The I&M Program collects, organizes, and makes available natural resource data and facilitates the transformation of data into information through analysis, synthesis, modeling, and presentation. The I&M Program seeks partnerships to attain common goals and objectives related to the inventory and monitoring of park resources as well as science communication.
Susan Teel is the Director of the Southern California Research Learning Center, a National Park Service center established to assist scientists and students in conducting research in national parks. The research results compiled by faculty and students then assist park managers in making science-based decisions. Research Learning Centers facilitate scientific information sharing, and provide opportunities for faculty and students to learn about national parks. They are places where science and education come together to preserve and protect areas of national significance.