Third Year for President's Community Service Recognition
For a third consecutive year, CI has earned a place on the President's Higher Education Community Service Honor Roll. The annual list recognizes the nation's leading universities that show a commitment to bettering their local communities through community service and service learning. The Honor Roll is compiled by the Corporation for National and Community Service, a federal government agency that encourages volunteerism and public service, in collaboration with the U.S. Departments of Education and Housing and Urban Development, Campus Compact, and the American Council on Education. 
Service learning and community engagement have been a focus of CI's curriculum and student life since the University's inception in 2002. During the 2010-2011 academic year, CI tallied more than 26,500 hours of community service from approximately 1,300 students. 
Read the full story by visiting: http://www.csuci.edu/news/releases/2012-presidentshonorroll.htm.
Professor Ranked Third as US Economist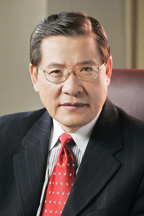 The Wall Street Journal has ranked Professor Sung Won Sohn, CI's Endowed Professor of Economics and Director of the Institute for Global Economic Research, third in its annual survey of top economists. The rankings, published in the Wall Street Journal, rate the forecasting accuracy of 52 leading economic experts in predicting the path the nation's economy would take in 2011. 
To compile the rankings, the Wall Street Journal asked the economists to make predictions in January 2011 about how inflation, unemployment, interest rates and economic output would perform during the year. Sohn, with an overall score of 78.6, was among the most accurate in his forecasts for more than 10 key economic indicators. 
This is the third time that Sohn has earned the prestigious ranking. He was named the nation's most accurate economist by the Wall Street Journal in 2006 and ranked among the top five in 2010. His accuracy has also been noted by Time magazine and Bloomberg News. 
Read the full story by visiting: http://www.csuci.edu/news/releases/2012-sohnwsj.htm.
Mathematics Professor Wins National Award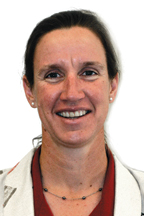 Professor Cynthia Wyels has earned one of the nation's top honors for a math professor – the Mathematical Association of America's Deborah and Franklin Tepper Haimo Award for Distinguished College or University Teaching of Mathematics. The award is given each year to three college or university teachers who have been widely recognized as extraordinarily successful and whose teaching effectiveness has had influence beyond their own institutions. 
Wyels, a CI faculty member since 2005, is director of the graduate mathematics program and an avid promoter of undergraduate research opportunities for underrepresented students. Through her summer undergraduate research programs, she has mentored and encouraged students from low-income, first-generation and historically underrepresented groups to pursue higher education and careers in mathematics. 
Read the full story by visiting: http://www.csuci.edu/news/releases/2012-wyelsaward.htm.
Professor Receives President's Award
Andrea Grove, Professor of Political Science, has been awarded CI's second annual President's Award for Innovations in Teaching and Learning. The award is presented in recognition of an individual who has made unique and significant contributions to the teaching mission of the University. 
Grove was selected, in part, for her creation of experiential learning opportunities for her students through her study abroad course, Journey to the New South Africa. Her students spend a semester studying the history and social and political structures of South Africa, then experience the country first hand. 
As a teacher-scholar, Grove has published not only in the field of foreign policy, but also has contributed to the scholarship of teaching and learning. She has published an article about creating Model UN teams, and an analysis of how textbooks represent foreign policy. In addition to these accomplishments, Grove has served as the Faculty Director of the Center for Civic Engagement and the Faculty Director of the California Institute for Social Business. 
Read the full story by visiting: http://www.csuci.edu/news/releases/2012-groveaward.htm. 
Students Earn Top Prizes for Research
Three student teams from CI scored victories at the 26th Annual CSU Student Research Competition held in Long Beach. The competition showcases excellence in scholarly research and creative activity by undergraduate and graduate students throughout the 23-campus CSU system. Ten teams from CI competed in the event, which drew 190 teams statewide.
Senior political science majors Isaac Moorthy and Corey Sloane won first place in the Interdisciplinary category for their research project and presentation, "Media, Humor and Political Cynicism." Senior mathematics and computer science major Janeth Moran-Cervantes won first place in the Physical and Mathematical Sciences category for her presentation and research, "Classification of Plant Species." Senior political science majors Dulce Lopez and David Winston took second place in the Interdisciplinary category for their research and presentation, "Media and Individual Attitudes Toward Congressional Earmarks." 
The awards were based on 10-minute oral presentations of the students' research and findings, presented to juries made up of professional experts from major corporations, foundations, public agencies, and colleges and universities in California. Afterward, the presenters fielded five minutes of questions from the judges. First-place winners received $500 and a certificate. Second-place winners received a certificate and $250.
Read the full story by visiting: http://www.csuci.edu/news/releases/2012-cistudentresearchcomp.htm.


Model UN Team Wins Awards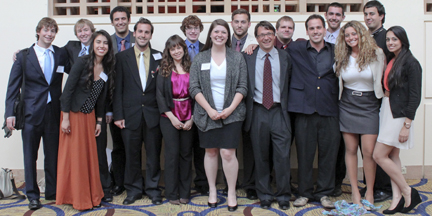 CI Model United Nations Team
The Model United Nations Team at CI captured six top awards at two regional conferences. The first event was the Western Model United Nations, which attracted more than 140 participants from 10 colleges and universities to Santa Barbara City College. Senior political science major MacKenzie Garcia, acting as Uganda in the Human Rights Council, received the top award as Outstanding Delegate. Junior economics and political science major Steven Jordan, portraying Ecuador in the Historic Security Council, was named Best Delegate. Senior political science major Kurt Harris received an Honorable Mention as Uganda in the General Assembly First Committee. At the second event, CI's team won three awards at the Model United Nations of the Far West, which draws competitors from all around the U.S., Canada and Russia for a five-day conference near San Francisco. 
Led by Professors Andrea Grove and Chris Scholl from the Political Science Program, the 2012 team includes students Matthew Bateman, Kristina Cervi, Sofia Farid, MacKenzie Garcia, Stephanie Garcia, Kurt Harris, Kyle Harris, Steven Jordan, Robert Lestak, Andre Ross, Sara Sanders, Pieter Turley, David Winston, Markus Wurtz, and Trevor Yslas. 
 Model UN is a simulation of the UN's committees. Students step into the shoes of ambassadors from UN member states to research and debate current issues on the organization's agenda. While playing their roles as ambassadors, student delegates make speeches, prepare draft resolutions, negotiate with allies and adversaries, resolve conflicts, and navigate the Model UN conference rules of procedure – all in the interest of mobilizing international cooperation to resolve problems that affect countries all over the world.
Read the full story by visiting: http://www.csuci.edu/news/releases/2012-modelunteam.htm.