Collecting Ventura: The Gold Coast Collections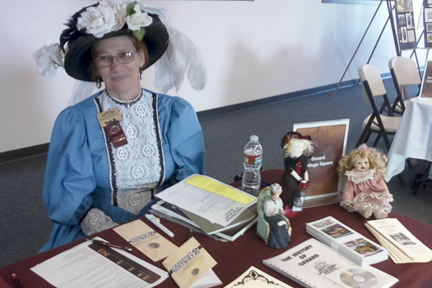 By John Spoor Broome Library Staff
CI's John Spoor Broome Library's inaugural event, Collecting Ventura: The Gold Coast Collections brought together local museums, libraries, archives, and historical societies to one place on one day to promote Ventura County's unique collections. The goals of Collecting Ventura are to promote the use of primary sources in the classroom and research and to celebrate local and hidden history. 
The event's gem is the Archives Bazaar, where attendees can visit local institutions and discover collections that celebrate the cultural heritage of Ventura County's history. Designed for students, teachers, scholarly researchers, history buffs, and those simply interested in exploring the stories of Ventura County, the Archives Bazaar offers cultural treasures waiting to be discovered. The Archives Bazaar's inaugural institutions included the Ronald Reagan Presidential Library, Museum of Ventura County, U.S. Navy Seabee Archives and Museum, Oxnard Heritage Square, Murphy Auto Museum, Rancho Camulos Museum, Stagecoach Inn Museum, E.P. Foster Ventura County Public Library, Camarillo Public Library, and Thousand Oaks Public Library.
"This is a significant first step for creating an important annual event," stated Charles Johnson, librarian at the Museum of Ventura County. "It was important for the museum to support and be a part of this inaugural program showcasing the county's historical collections and institutions."
In addition to the Bazaar, educational sessions included "Using Primary Documents to Teach and Learn About Politics" by Sean Q. Kelly, Associate Professor of Political Science; "Picture This: Teaching Visual Literacy through History" by Elnora Kelly Tayag, Librarian; "Hidden Treasures in the Seabee Museum Archives" by Gina Nichols, Archivist; "Lincoln in the Classroom: A Fresh Look at the Constitution and the Civil War" by Laura Worden, Librarian, and Kaela Casey, MLIS candidate; "The Road to Yerba Buena: The Importance of Primary Documents in Historical Research" by Charles Johnson, Librarian; and "Camarillo State Hospital, CI's Oldest Collection" by Evelyn Taylor, Archivist, as well as architectural tours of the library. 
Presenters spoke about the treasure hunt involved in the research process, and that many primary source gems are found in collections, and not necessarily on the Internet.  They also focused on incorporating primary sources to make history come alive in the classroom and engage students in original research. Promoting awareness of these treasures ensures the success of our local institutions, their collections,
and future Collecting Ventura events.
If you or your institution would like to present or participate next spring, please contact Elnora Tayag, Outreach Coordinator, at elnora.tayag@csuci.edu or Matthew Cook, Head of Public Services, at matthew.cook@csuci.edu. 
Collecting Ventura is sponsored by CI's Broome Library and the Education Program.