By Marya Jones Barlow
Dodger Day Event Wins National Award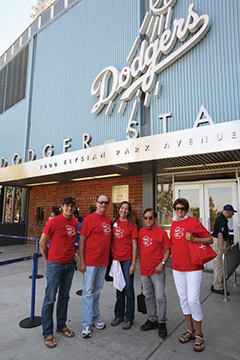 Score another home run for CI's Alumni & Friends Dodger Day event! The University won a 2013 Award of Excellence for Alumni Relations Programs from The Council for Advancement and Support of Education (CASE) after packing the stands at Dodger Stadium for a special 10th anniversary event.
CASE, the world's largest association serving university advancement professionals, selected CI's Dodger Day for the top "gold" award from a record number of entries. Awardees were honored at a CASE district conference on March 2 in San Francisco.
"This award means a lot because it recognizes that Dodger Day is more than an alumni event – it is a celebration of CI involving our entire community," said Tania Garcia, Director of Development, Alumni Relations. "Hundreds of people from our community joined us to show their CI spirit."
The 9th Annual Alumni & Friends Dodger Day took place on Sunday, Sept. 30, 2012 with more than 600 students, alumni and friends turning Dodger Stadium red with Dolphin pride. President Rush took the field to throw out the ceremonial first pitch, just before the Los Angeles Dodgers played the Colorado Rockies. CI and its supporters also got a special salute on the stadium's Jumbotron.
A tradition since 2004, Dodger Day has steadily grown into CI's largest signature alumni event. For the cost of admission, participants enjoy commemorative T-shirts; deluxe bus transportation – complete with movies, singing and networking – between the CI campus and Dodger Stadium; and a memorable day of baseball, bonding and fun. This year's event is scheduled for Sunday, Sept. 15.
Alumni Celebrate and Reunite in "A Night with CI"

CI honored distinguished alumni, reunited old friends, celebrated its 10-year anniversary, and began a new tradition with "A Night with CI" in February.
The inaugural CI all-campus reunion and distinguished alumni awards dinner drew more than 150 guests to the Grand Salon on Feb. 2 for an evening of honors, speeches, and a dinner reception. 
Organized by Associated Students Incorporated (ASI) and the Alumni & Friends Association, the event attracted attendees ranging from members of the first graduating class to current students, faculty, staff and community members.
Awards were presented in two categories to three outstanding CI alumni, as selected by student and alumni committees.
Rebecca Glazier, a 2004 Liberal Studies graduate, won an ASI Award, which is presented to alumni who were involved in ASI, display outstanding leadership in their professions, and uphold the foundational CI values of intellectual honesty, democracy and social justice. Glazier was the first Student Government President elected by the CI student body. She went on to earn a master's and Ph.D. in Political Science from UCSB and is now an Assistant Professor of Political Science at the University of Arkansas Little Rock. One of her many notable accomplishments was the development of interactive teaching software used by professors nationwide to increase student engagement in the political science classroom. She also recently was selected for the CSU Working for California statewide distinguished alumni honor.
Anneka Busse, a 2007 CI graduate working toward a Doctorate of Psychology from Pepperdine University, also won an ASI Award. While at CI, Busse served as Student Government President and ASI Chair. In her master's program at USC, she was Student Ambassador for the Rossier School of Education and Co-Vice President for the Marriage and Family Therapy Student Organization. At Pepperdine, she was selected by faculty as a Peer Supervisor overseeing first- and second-year doctoral trainees. She is also President for the Psy.D. Student Government Association.
Elisabeth Freeman, a 2006 graduate (pictured third from right), was the winner of the Alumni & Friends Distinguished Alumni Award. Freeman is President of the International Center for Professional Development (ICPD), where she leads efforts to provide access to careers and professional development for students, military veterans and other professionals in the U.S. and Africa. She earned an Executive Masters in Public Health Degree from UCLA, where she has been a guest lecturer.
Her noteworthy philanthropic efforts include initiating the Jatropha Tree project, which produces biodiesel that can be sold to pay for medication in sub-Saharan Africa. She also founded Legacy Direct, a nonprofit healthcare organization committed to expanding connectivity for the advancement of science in Africa. She was honored with the 2006 Camarillo Healthcare District's Apple of Excellence Award and in 2010 was identified as one of the CSU statewide distinguished alumni. As a CI student, she led the efforts to raise over $10,000 for the victims of Hurricane Katrina. 
"A Night with CI" was a memorable night of reflecting, reconnecting and celebrating our 10-year anniversary," said Genevieve Evans Taylor, ASI Executive Director. "We look forward to seeing it grow as a longstanding annual event."
For more information on these and other Alumni events, visit http://www.csuci.edu/alumni/index.htm.