Doug Jenzen, '07 History
Education Path Leads to Rewarding Combination
By Marya Jones Barlow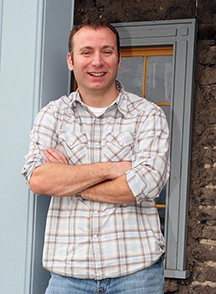 Doug Jenzen can thank the Great Recession for helping nudge him toward his dream job.
Today, the 33-year-old Nipomo native is executive director of the Guadalupe-Nipomo Dunes Center, a nonprofit that offers educational, cultural, recreational, and conservation programs in one of the largest, most ecologically significant coastal dune ecosystems on Earth. He's also the author of a book, with a second on the way.
It's not the life Jenzen pictured for himself back in 2005, when he enrolled at CI with intentions of becoming a high school history teacher—leaving behind a successful career as a district manager for the national book retailer Borders.
"I got tired of making money for a corporation and wanted to do something to make the world a better place," Jenzen said. "At Borders, I spent a lot of time working with teachers and students and doing school fundraisers. Seeing the impact teachers had really appealed to me."
Jenzen worked full-time while completing his bachelor's in history at CI and then went on to pursue teaching credentials at Cal Poly. A week before he finished, Jenzen's job prospects dimmed as 25,000 California teachers were laid off in the recession.
"It was really bad timing," Jenzen said. "A couple of my instructors at CI had planted the seed in my head that I was capable of getting a master's degree—something I hadn't considered before."
Jenzen completed a master's degree in history at Cal Poly while substitute teaching. After finishing his thesis on the history of local agriculture and labor demographics, he approached an old contact in the publishing industry about writing a book. 
One year later, Jenzen published "Images of America: Nipomo and Los Berros," a carefully researched photographic history of the area. He donated all of the proceeds to the Dana Adobe, a historic National Landmark in his hometown.
His work led to a job as program director for the Dana Adobe, where he organized educational programming. The Guadalupe-Nipomo Dunes Center came calling less than a year later.
As the organization's executive director, Jenzen oversees a natural history museum and interpretive center, budgeting, fundraising and grant-writing, three employees, 50 volunteers, docent-led nature and history hikes, and educational programs for more than 5,500 children a year. 
Though it's a far cry from teaching history in a high school classroom, Jenzen is even more thrilled to have a career that combines his training as a teacher, historian and businessman.
"I love it," he said. "In a way, I think I'm actually better suited for it because we get to design fun, hands-on educational experiences for students without the confines of things like the school day or state standards. It's extremely rewarding without having to deal with some of the drawbacks that classroom teachers have to. "