Kate Barnholtz, '04 Art 
Artist Guided By Universality of Art
By Marya Jones Barlow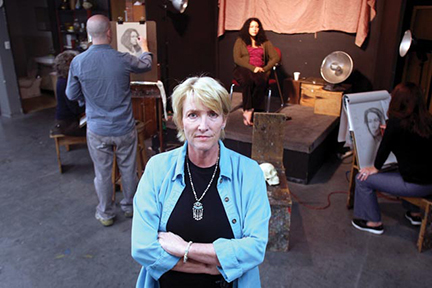 You might say that art is in Kate Barnholtz's blood. The daughter of two successful artists, Barnholtz grew up painting, studying ceramics and selling her art in her father's gallery in Cape Cod, Mass.
Yet when it came time to make a living, Barnholtz became a businesswoman and certified public accountant. She spent 25 years as a chief financial officer and successful entrepreneur in the film industry before realizing she still hadn't found her true calling.
At the age of 43, Barnholtz enrolled at CI to complete her bachelor's degree, thinking she might major in psychology. But while exploring the campus on her very first day, she ducked into the painting gallery and encountered Art Program Chair and Professor of Art Jack Reilly teaching students to paint.
"He truly changed the course of what I was going to do. It's all Jack Reilly's fault," she joked. "I searched my whole life for what I wanted to do. CI gave me the gift of knowing what I wanted to do. I don't think I was an artist before I went there."
Now the new owner of the California Art Institute (CAI) in Thousand Oaks, Barnholtz is hoping to provide the same inspiration and support to other artists. She purchased the renowned art school, where she also studied as a student, last year – "not as a business decision but as a fulfillment of my dreams." The school was founded in the early 1980s by the late Fred Fixler, an alumnus of the famed Art Student League of New York, where Barnholtz's parents both trained as artists. Barnholtz also owns the Burdick Art Gallery in Cape Cod, where she and her family show their work.
Barnholtz's background as a successful businesswoman has helped CAI thrive. The art institute employs 30 people and offers more than 25 drawing, painting, illustration, fine art, animation, sculpture and photography courses each semester, many of which focus on the human figure. Barnholtz works hard to create a welcoming, supportive environment where all ages, skill levels and incomes feel at home. In addition to turning CAI into a nonprofit institute "by artists for artists," Barnholtz hopes to offer opportunities for CI art students to intern, practice, teach and develop as artists.
"Art is one of the wonderful ways we bring people together. It's a universal language that transcends religion, class, money, everything," she said. "To be part of extending another generation of artists and to see the joy on people's faces because they found a way to express themselves – that's my pay. It's extraordinary."
Learn more about CAI at www.calartinst.com.