Award-winning CI Immigrant Student Welcomes Commencement Guests 
By Marya Jones Barlow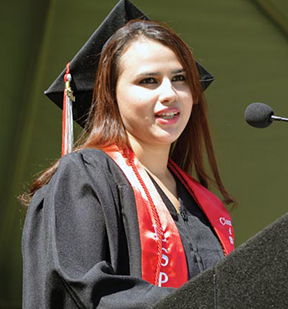 When Martha Torres-Mendez walked the stage at CI's May 18 Commencement ceremony, it was a celebration of several personal milestones. The 24-year-old was the first in her family to graduate from college—or high school, for that matter. She recently won the CSU system's prestigious Sally Casanova Pre-Doctoral Award, as well as funding from the Chancellor's Doctoral Incentive Program that will help support her as she works toward her Ph.D. at UC Irvine. And she delivered the welcome to more than 6,000 afternoon commencement guests in Spanish, a task that instilled pride in the Mexican immigrant who learned English herself as a teenager.
"I still can hardly believe it," said Torres-Mendez. "I came to this country when I was 13 and I was afraid to speak in class because my English was so poor. It's such an honor now to be graduating from CSU Channel Islands and to stand up to welcome my parents and community."
It's one of many honors for Torres-Mendez, a Spanish major from Coachella who surmounted quite a few challenges to reach the commencement stage. In addition to her degree and CSU awards, she was named "Outstanding Graduate" by the Spanish program—an honor she proudly shared with her younger sister, Angeles. This fall, she'll head to UC Irvine to pursue her master's and Ph.D. in Contemporary Mexican literature on a Regents Scholarship that covers her tuition and expenses. 
Torres-Mendez came to the U.S. at the age of 13 with her parents and eight brothers and sisters. Her father, a gardener, and mother, an agricultural worker, encouraged their children to pursue higher education. After becoming the first in her family to graduate from high school, Torres-Mendez was accepted into CI. But as she got ready to head to the Camarillo campus, she was overcome by fear.
"I was afraid to leave home," she said. "English was my second language and I was afraid the classes were going to be too hard and intimidating. So, I stayed home and took a job as a hostess at a restaurant. It didn't take me long to regret that I had lost an amazing opportunity."
She contacted CI's admissions office and enrolled the following year.
Spanish Professor Stephen Clark, who served as her faculty mentor, said he immediately recognized her potential as a teacher when Torres-Mendez gave a presentation in one of his classes.
"Once I saw her in that class, I said, 'This is a future all-star teacher in the making,'" he recalled. "She had this activity designed that made the presentation completely interactive and got everyone involved. She engaged the audience better than anyone I've ever seen in an undergraduate class."
Perhaps most impressive, Torres-Mendez juggled full-time studies, a 3.6 GPA, work as a Spanish tutor, studying for GREs, and applying for scholarships and graduate schools while also managing roles as a wife and new mother. 
Torres-Mendez decorated the cap she wore at graduation with a special message dedicated to her family: "Como lo prometí"—As I Promised. Next to the message, she added two little blue feet, representing her 2-year-old son, Daniel.
"All of this is for him," she said. "I want him one day to be proud of his mom."