University Establishes Research Station Partnership
By Marya Jones Barlow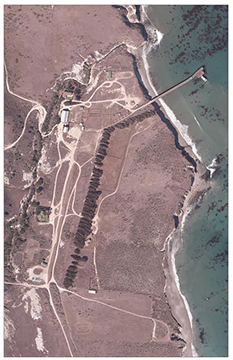 About 40 miles off the Ventura coastline, Santa Rosa Island in the Channel Islands National Park is a treasure trove for scientists, historians, naturalists and adventurers alike. Now, thanks to a new partnership with the National Park Service (NPS), it is also a classroom, laboratory and field research station for CI students and faculty.
In April, CI and the NPS announced the Santa Rosa Island Research Station – A California State University Channel Islands Undergraduate Research Campus. The agreement paves the way for a facility that hosts wide-ranging educational and research opportunities in one of the nation's most ecologically and archaeologically prized island settings.
Santa Rosa Island's varied landforms, diverse array of plant and animal species, and significant archaeological assets make it a wealth of opportunity for research and student education. The facility will serve CI students and faculty as well as a much broader community, including other universities, governmental agencies, cultural institutions, and national and international researchers.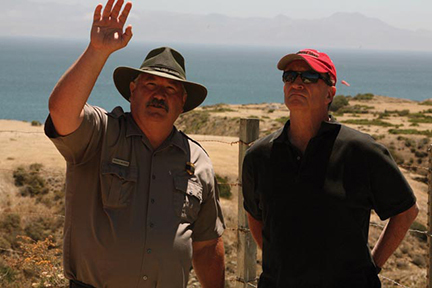 Channel Islands National Park Superintendent Russell Galipeau and President Rush on Santa Rosa Island

 "We are delighted to partner with the NPS to provide our students, faculty and the international academic and scientific community with access to one of the world's greatest living laboratories," said CI President Richard R. Rush. "The Santa Rosa Island Research Station presents priceless opportunities for learning, collaboration, and innovation in areas ranging from anthropology and biology to park policy and wildlife conservation."

Santa Rosa Island, the second-largest island within Channel Islands National Park (CINP), boasts 55 miles of coastline supporting a diverse web of marine life. Its 53,000 acres are home to more than 100 bird species, 500 plant species, many endemic species found nowhere else in the world, and numerous significant and federally protected archeological sites offering a 13,000-year record of human occupation, including the earliest-known human remains in North America. 

A variety of CI programs is planned that promote study and stewardship of the island's rich natural and cultural resources. Courses and student research will span many of the University's disciplines, including the arts, humanities, and natural and social sciences. Programs include a summer archeological field school, immersive undergraduate field research in biology and environmental science and resource management, and studies of marine mammals and coastal systems.

In addition, CI will offer data collected on the island to the NPS to help inform park planning and activities. 

"This collaboration with CI will greatly enhance opportunities for scientific discovery and research, resource management and restoration, and education at the park," said CINP Superintendent Russell Galipeau.

Work soon will begin to convert two existing buildings on the island into facilities to host students, faculty, researchers, and a resident manager. CI plans to fund facility operations through a combination of grants, donations and revenue generated from facility use fees.