Spelling Success
By Lori Putnam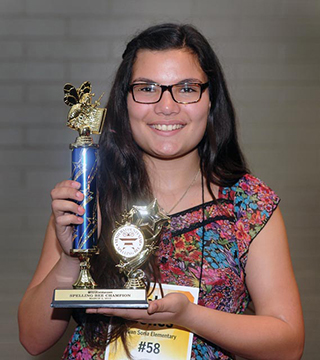 The third time was the charm for Soleil Jones, an eighth grade student from Juan Soria Elementary School in Oxnard, who won the 2013 Ventura County Spelling Bee hosted on the CI campus on Saturday, March 2nd.
"Follow your goals and do whatever it takes," said Jones, who placed fifth last year and won this year's competition by correctly spelling the word chresard. She was among 132 elementary school students competing for the opportunity to participate in the 88th annual Scripps National Spelling Bee in Washington D.C. This year's cash prize is $30,000.
After successfully passing a written test conducted in the morning, more than 40 students advanced to an afternoon verbal spelling bee held in Malibu Hall. According to Jones, one of the greatest challenges was staying alert during seven rounds of spelling lasting nearly four hours. Each student's style was different; some raced through their words as quickly as possible while others carefully wrote out the letters of their words on their hands and asked pronouncer Sheryl Misenhimer additional questions, such as the word's language of origin.
"I was never a great speller," confessed Misenhimer, who is principal at Glen City Elementary School in Santa Paula. "I'm thrilled to be a part of this event, and see the great pride the students have in their accomplishments."
The Ventura County Star has presented the County Spelling Bee for more than 50 years. "It's more than just learning to spell words," observed VC-Star editor John Moore. "This experience challenges kids to be critical thinkers." Moore also believes hosting the county bee on the CI campus provides students with a valuable university experience. "I love the opportunity to say to parents and kids that one day you can be here on this campus," he said. "When you're in fourth or fifth grade, that's exciting."
As for this year's Ventura County winner, spelling champion is one of only many dreams she is pursuing. "I'd like to be pediatrician," said Jones. "I think working with kids is really fun."