Generation Green
By Lori Putnam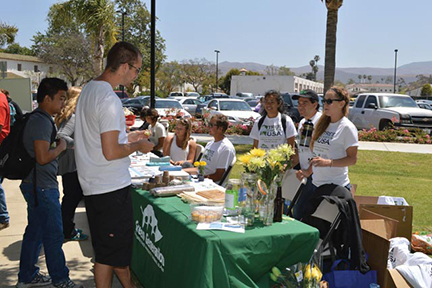 While the Baby Boom Generation may be known for its size and Generation X for its independence, a new generation is known by a color—green. And at CSU Channel Islands (CI), it's the Green Generation Club that offers students the opportunity to pursue their interest in the environment.
"Many of our students were the catalyst for the club," said Don Rodriguez, Professor and Chair of the Environmental Science & Resource Management program. "The Green Generation Club was an outgrowth of getting students organized around the idea of sustainability." 
In April, the club hosted an Earth Extravaganza to promote awareness of and encourage participation in a wide range of environmental and sustainable projects on campus. The celebration kicked off with faculty and staff planting more than 400 trees and shrubs in and around Long Grade Creek. The club also hosted a campus-wide celebration of Arbor Day and Earth Day on April 22nd. This year's event held a special meaning as CI received its first designation as a "Tree Campus USA" by the Arbor Day Foundation, making it one of only 150 higher education institutions to earn the honor (see page 9). 
The mission of the Green Generation Club, founded in 2009, is to establish CI as a positive environmental example while advocating for sustainable practices on campus. According to club faculty advisor Linda O'Hirok, one of the strengths of the club is that it isn't connected to a single discipline or program. "We're fairly broad," said O'Hirok, who is an Environmental Science & Resource Management lecturer. "Our idea of sustainability is looking at everything from water conservation to climate change to beach clean-ups to Earth Week celebrations. Our club provides an opportunity for anyone on campus to become active."
"This generation is more aware than previous generations with respect to sustainable choices," added Rodriguez. "The Green Generation Club has an important role to play in terms of raising awareness and getting students more involved around topics related to sustainability. As we grow as a campus, we want sustainability to be seen as an important part of the fabric of our campus culture which will set us apart from the rest of the CSU system."