Work Hard, Play Hard
By Lori Putnam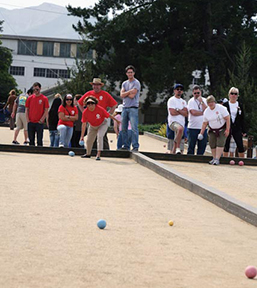 Normally a tug of war at work means departments battling over budgets or projects. However, at the 2013 Corporate Games sponsored by the City of Ventura, local businesses are actually encouraging their employees to participate in a tug of war, along with volleyball, darts, paintball, and dodge ball—all in the name of good fun and sportsmanship. 
This year marked the first time CSU Channel Islands (CI) participated in the Corporate Games, competing in the division made up of the largest organizations in Ventura.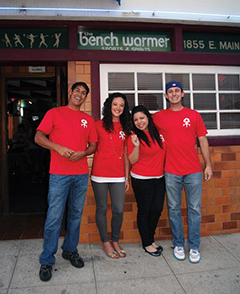 "With the 10 year anniversary celebration, it seemed like perfect timing to get out among the community and be a part of this event," said Callie Juarez, who helped to organize CI's four faculty and 80 staff members in sports competitions over the course of six weeks. "It's about having fun, not winning, and meeting new people." Last year, more than 70 local companies participated in the Games including Amgen, Blue Cross, Patagonia, and the County of Ventura. Nearly 10,000 participants engaged in 30 events.
The goal behind the Games is to promote teamwork, fun, and good health according to Corporate Games Director Eric Burton. He had participated in a similar corporate team event while on staff at the YMCA in Springfield, Ohio, in the 1980s. When Burton moved to Southern California, he saw an opportunity to bring the concept to life for the City of Ventura.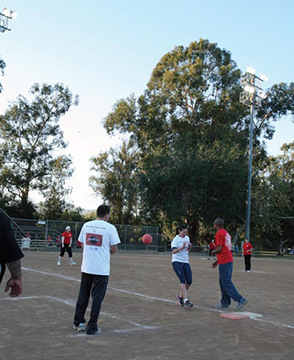 "When I moved to California and saw how healthy everyone was and how much everyone enjoyed the great weather, I thought this was the perfect place to host an event like the Corporate Games," said Burton. The first Games were held in 1989 and included six events hosted over one weekend at Ventura's State Beach. It was an immediate success. "I could tell the idea of companies coming together and building camaraderie was working. Just seeing everyone doing a tug a war or building a sandcastle with such enthusiasm showed me we needed to break down walls between management and employees." 
This year the County of Ventura took home the most gold medals in its division, followed by Naval Base Ventura County and Amgen. CI Biology lecturer Tom Schmidhauser won the University's only medal, bronze, in his age group for the Corporate Games 5K race.