Continuing Our Paths of Partnership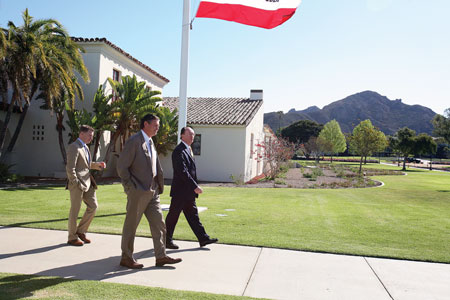 It's been a remarkable year at your University! We have more students now than ever before; new academic buildings; and a beautiful Central Mall, built with private donations and volunteer labor. As we look back over our ten years in the community, we are proud of how we have come together to create the excellent university that our region deserves.
Our appreciation for what we have built was put in stark relief in May as we saw the campus surrounded by walls of flame and smoke. We are grateful for the first responders who came from across the state of California, as well as from our local community and our campus, to make sure that our building and grounds were protected, and more important, that every member of the campus community was safe. We are thankful for our beautiful surroundings, but it is the people of your University that make it such a special place.
As we go to press, we are awaiting the final budget for 2013–14, and we are hopeful that it will contain some improvement over the disastrous cuts of recent years. But our success over the next ten years, just as over the last ten, will depend upon more than tax dollars and student tuition. It will continue to require the generosity of individuals and innovative public/private partnerships that enable us not just to be good, but to be great. Your University stands ready to meet the challenge. Together, we innovate. Join us!