By Marya Jones Barlow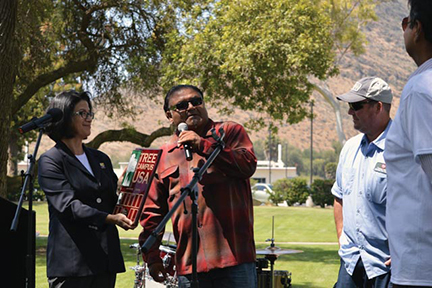 CI's commitment to being both scenic and sustainable is well-known throughout the campus and nearby community. Now, it's gaining national attention.
The Arbor Day Foundation recently named CI a first-time recipient of its "Tree Campus USA" designation. The recognition honors CI for its dedication to forest management and conservation and makes it one of approximately 150 institutions nationwide and the first in the 23-campus CSU system to earn the title.
Tree Campus USA is a national program created in 2008 to honor colleges and universities for effective campus forest management and for engaging staff and students in conservation goals. CI achieved the title by meeting Tree Campus USA's five standards, which include maintaining a tree advisory committee, a campus tree-care plan, dedicated annual expenditures toward trees, an Arbor Day observance, and student service-learning projects.
"We are so honored to receive recognition from the Tree Campus USA program," said Dave Chakraborty, Associate Vice President for Operations, Planning & Construction. "This is an accomplishment that represents just how far our young campus has come. Our Urban Forest Management Plan places sustainability as a top priority. This is vital to our campus' ongoing success, as it provides an ideal environment for research, education, and recreation among the CI community."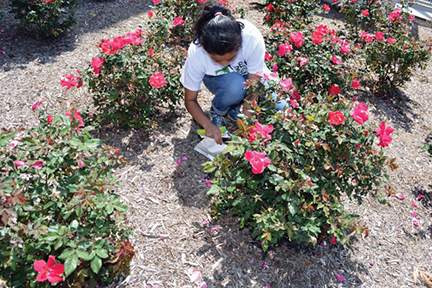 CI's 1,200-acre campus has been carefully planned to preserve natural open space and native vegetation. The 135-acre main campus is home to more than 2,025 trees of 110 varieties, ranging in age from newly planted to historic. The extended campus includes a 370-acre regional park and several acres of restored creek bed. The University aims to increase its tree canopy cover on the main campus from 25 percent to more than 40 percent in the coming years. Over the past two years, more than 800 new trees have been planted as part of that effort. CI also strives to increase tree coverage on campus through its "Leave Your Mark" campaign, which invites donors to adopt a tree, paver or bench, commemorated with a personalized plaque.
"The campus forest nurtures us in many ways besides adding beauty," said Campus Arborist John Fluharty. "Our campus forest feeds us, cleans our air by removing pollutants, creates oxygen, absorbs run off, halts soil erosion, and provides us with shade."
CI received formal recognition by the Arbor Day Foundation on Monday, April 22, during the annual campus Earth Extravaganza—a multi-day celebration of Earth Day and Arbor Day. The foundation presented Vice President for Finance & Administration Ysabel Trinidad with a plaque acknowledging the campus for its outstanding environmental stewardship.
"This acknowledgement as a 'Tree Campus USA' is another proud accomplishment for our University," said President Rush. "Environmental stewardship and sustainability are values we not only try to preach but also practice and promote on a daily basis on this campus. They are reflected in our academic programs, student service-learning experiences, and the way we manage our campus. This recognition validates our success in making CI a sanctuary for learning, innovation, advancement, service and sustainability."
To learn more about adopting a tree through CI's Leave Your Mark campaign, visit www.csuci.edu/impact/leave-your-mark/.