Social Business: Theory, Practice and Critical Perspectives
By Andrea K. Grove, Professor of Political Science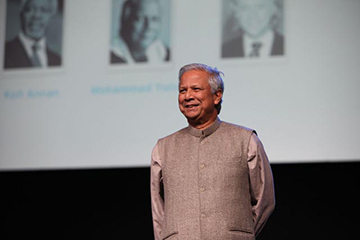 Conceptualized and put into practice by Nobel Peace Prize Laureate and Presidential Medal of Freedom recipient Dr. Muhammad Yunus, social businesses operate to address social ills such as poverty, lack of health care, gaps in education, and environmental challenges. A social business is a profit-generating company wherein investors do not receive dividends. Initial investments are paid back, but remaining profits are reinvested. In this way, a social business is financially sustainable. 
CI's California Institute for Social Business (CISB) in collaboration with Muhammad Yunus is the first program of its kind in the United States to grant an undergraduate degree in social business and to involve academia in research on the understudied academic field of social business. For the last two and a half years, as the Faculty Director of the CISB I have attended the annual Global Social Business Summit and preceding Academia Day three years in a row. Through these conferences, I have built relationships with an array of academics and entrepreneurs and with my colleague Dr. Gary Berg (Associate Vice President for Academic Affairs/Extended University), we are editing a book about social business (forthcoming in 2014 from Springer), including a Foreward from Dr. Yunus. Through the global network we are integrating this community of scholars to create one of the first comprehensive collections of theory and research on the emerging field of social business. The diverse group of authors come from around the world (United States, Germany, Vietnam, Saudi Arabia, Italy, Spain, and Bangladesh) and from various disciplinary backgrounds (business, education, political science, economics, geography, etc.), representing the leading academic experts on social business phenomena.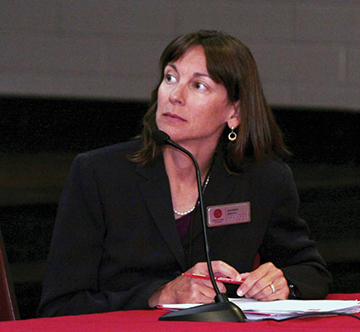 Our research explores the ideation, practice and evaluation of the concept of social business. 
Over the past two decades, forces in various fields have surfaced promoting the notion that social problems might be better addressed through employing business methods. The context of this emergence of businesses with a social purpose and non-profits or non-governmental organizations with business methods is situated in a multifaceted discontent with the ability of both governmental and philanthropic agencies to address core social problems such as poverty, healthcare needs and environmental sustainability. This book begins with a theoretical focus, first exploring the evolution of social business and then situating the concept of social business within the broader field of social entrepreneurship. 
The second part consists of eight case studies. Using multiple methods, the authors explore social businesses around the world in the areas of: nutrition; a combination of health care, nutrition, and microlending; education; disease; energy; information technology; social business city approach; and Type II social businesses. The section is introduced with information about current methodologies. Part three is focused on practice, examining the state of the art knowledge in key areas concerning social business design and execution, as well as lessons learned thus far. Chapters look specifically at management, financial issues, and marketing. Part four turns a critical eye on the concept and its applications, concluding with an assessment of the state of knowledge in the field and gaps in research. This work will extend far beyond CSU Channel Islands and have a significant impact on many scholars around the world.