Professor Receives President's Award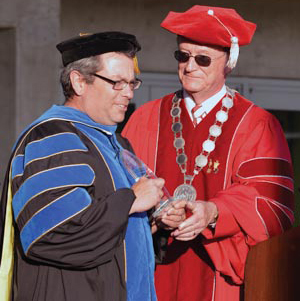 Blake Gillespie, Associate Professor of Chemistry, has earned CI's 2013 President's Award for Innovations in Teaching and Learning. The award recognizes an individual who has made unique and significant contributions to the teaching mission of the University. A CI faculty member since 2003, Gillespie has a well-deserved reputation as an innovator. He makes chemistry appealing and accessible to science and non-science majors alike by creating courses such as CHEM 335: "Chemistry of the Kitchen," which places students in a kitchen laboratory for hands-on exposure to the chemistry, biology and physics behind the ingredients and preparation of food.
An early adopter of the "flipped classroom," Gillespie requires biochemistry students to view his videotaped lectures online on their own time, freeing them to use class time for discussion, projects and problem-solving. He shares the benefits of this learning model with colleagues in CI's Blended Learning Preparation Program and at regional and national conferences.
Gillespie will be nominated by CI for the Carnegie Foundation's U.S. Professors of the Year Award, which honors those who excel as educators and influence the lives and careers of their students. Sponsored by the Council for Advancement and Support of Education (CASE) and The Carnegie Foundation for the Advancement of Teaching, it is the only national program to recognize excellence in undergraduate teaching and mentoring.
Read the full story by visiting: http://www.csuci.edu/news/releases/2013-gillespiepresidentaward.htm
Biology Student Earns Grant to Study Cancer

Nikki Wetton, a 28-year-old junior biology major at CI, will spend the summer researching women's cancer cell lines, thanks to a competitive grant from the CSU Program for Education and Research in Biotechnology (CSUPERB).
Wetton was one of 16 students statewide to earn the CSUPERB Presidents' Commission Scholar Award, which gives highly promising undergraduate students $8,000 to engage in full-time biotechnology-related laboratory-, field-, clinic- or community-based research. She and her faculty mentor, Associate Professor of Biology Nitika Parmar, are investigating how cervical, ovarian, breast and uterine cancer cell lines in women respond to exposure to anti-cancer agents using Phenotype MicroArray Panels and what protein pathways are impacted in them.
Wetton will submit a final report on her work to CSUPERB in the fall and may also be asked to present her research at the CSU Chancellor's Office in Long Beach this summer. She will also present her work at several regional and national conferences in 2014.
Read the full story by visiting: http://www.csuci.edu/news/releases/2013-cibiologystudentwomenscancers.htm
Mathematics Students Earn Top Prizes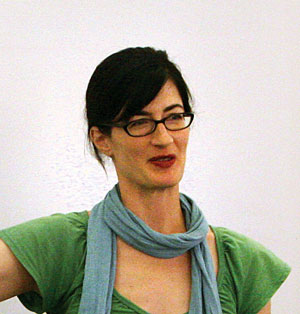 CI mathematics students won top prizes for presentations of their research at a Mathematics Association of America (MAA) conference held in April at University of San Diego. Four CI Master of Science in Mathematics students swept the top four spots in the graduate competition and four undergraduate mathematics students won two of the top four awards in the junior/senior category.
Graduate category winners, whose algebraic geometry research was advised by Professor of Mathematics Ivona Grzegorczyk, included:
Nausheen Ahmed, "The Tooth Surface"
Ryan DeMoss, "Properties of the Burkhardt Quartic"
George Walden, "Bohemian Dome: The Pinched Inner Tube"
Chinh Tran, "Polygonal Tilings of the Plane"
Junior/Senior category winners, whose imaging research was advised by Associate Professor of Mathematics Kathryn Leonard:
Cameron Embree, Gradon Faulkner, Jillian Glasset, "Compression and Skeletal Shape Models"
Rodrigues Bailey, "Wildfire Predictions via Infrared Images"
The research poster presentations allow the students to share their work with the wider mathematical community, receive recognition and feedback, hone communication skills, develop and advance ideas, and conduct valuable networking.
CI Associate Professor of Mathematics Kathryn Leonard, pictured above, recipient of the MAA's prestigious Alder Award, was a featured speaker at the conference on the topic of "Image Modeling with Industry and Undergraduates."
Read the full story by visiting: http://www.csuci.edu/news/releases/2013-cimathstudentsvictorious.htm
Professor Selected to Fulbright Senior Specialist Program
Geoff Dougherty, Professor of Applied Physics, has been selected to the prestigious national Fulbright Senior Specialist program. The program provides short-term academic opportunities linking prominent U.S. faculty to their counterparts at institutions worldwide for curricular and faculty development and institutional planning.
Developed by the U.S. Department of State Bureau of Educational and Cultural Affairs (ECA) and the Council for International Exchange of Scholars (CIES), the program awards grants to U.S. faculty and professionals to engage in collaborative projects at higher education institutions in more than 150 countries. Roster candidates are rigorously reviewed by specialist peer review committees and are eligible for a period of five years. Recipients of the awards are selected on the basis of professional or academic achievement.
Dougherty was chosen for his "interdisciplinary learning and innovative teaching" in engineering education, as well as his expertise in digital and medical imaging, pattern recognition, and curriculum development. He is already planning visits to the Far East and Persian Gulf to help universities develop biomedical engineering programs with a strong component of medical imaging.
Read the full story by visiting: http://www.csuci.edu/news/releases/2013-doughertyfulbrightprogram.htm
Students Win Internships to attend CERN
Three CI students will attend the prestigious European Organization for Nuclear Research (CERN) in Switzerland this summer to help scientists address some of physics' biggest mysteries using the world's largest, most powerful particle accelerator. Cameron Embree and Gradon Faulkner, both juniors double-majoring in Math and Computer Science, and Brandon Ausmus, a graduate Math student, are the first CI students to earn the highly competitive 10-week internships at the world-renowned lab.
The students will learn from and collaborate with international physicists, engineers and computer scientists on the ATLAS experiment of the Large Hadron Collider. The 17-mile-long, underground particle accelerator allows scientists to smash subatomic particles, test theories of particle and high-energy physics, and reproduce conditions that existed at the beginning of the universe. Researchers are using the Large Hadron Collider to generate new insights into the Big Bang, the elusive Higgs boson, the evolution of the universe, black holes, and dark matter.
CI recently joined the CSU-wide Nuclear and Particle Physics Consortium (NUPAC), which offers CSU students the opportunity to apply to work and study on the ATLAS experiment of the Large Hadron Collider. Embree, Faulkner and Ausmus were selected on the basis of their academic records, including their performance in a nuclear physics course, and the match of their skill sets to current CERN projects.
Read the full story by visiting: http://www.csuci.edu/news/releases/2013-cerninternships.htm
Chemistry Professor Recognized by National Engineer Week Foundation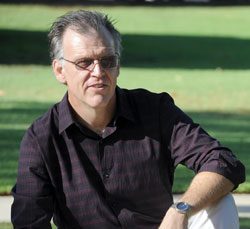 Professor of Chemistry Phil Hampton has earned a prestigious regional award from the National Engineers Week Foundation. The Edwin Allen Kindberg Distinguished Engineering Service Award is presented annually to "an individual who has made an outstanding contribution to advance or recognize the engineering profession in Ventura and Santa Barbara Counties." Recipients are selected by a committee of scientists and engineering professionals from the two counties. Hampton was honored for his efforts to spread enthusiasm for science to students of all ages through a variety of outreach programs and partnerships.
Hampton received the award at the National Engineers Week Committee's Annual Dinner held in Oxnard. The event also honored a teacher, five engineers, five "Projects of the Year," and 10 students with scholarships. CI President Richard Rush was the featured guest speaker and Hampton gave a presentation on CI's alliances with K-12 schools, community colleges, scientific and professional groups, and businesses to promote STEM (Science, Technology, Engineering and Mathematics) learning.
Hampton also serves as Director of Project ACCESO, an initiative funded by a federal Hispanic Serving Institution-STEM grant that encourages students in kindergarten through college to pursue STEM disciplines and careers. The program supports school and community outreach, career expos, tutoring and mentoring, afterschool programs, and an annual Science Carnival for kids and their families.
Read the full story by visiting: http://www.csuci.edu/news/releases/2013-cichemprofessorwinsnationalengineersaward.htm