10th Anniversary Exhibit – A Decade of Distinction
By Elnora Kelly Tayag, Outreach Coordinator, John Spoor Broome Library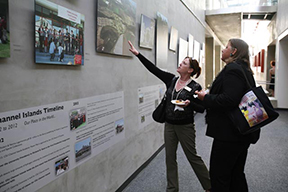 In celebration of the University's "A Decade of Distinction," the John Spoor Broome Library is proud to present a 10th Anniversary Exhibit commemorating CI's first 10 years of growth. The exhibit focuses on faculty teaching and research, the hard work of staff, and student learning experiences inside and beyond the classroom. Images, documents, and memorabilia featured in the exhibit are from the Archive Collection at the Broome Library.
The 10th Anniversary Exhibit begins with a photo exhibit and timeline that highlights CI milestones, such as the inaugural ceremonies, campus ground breakings, university travel courses, and campus activities with students, faculty and staff. Interwoven with world events, the campus timeline spotlights events like the first Island View Orientation (2002), the opening of Anacapa Village on-campus housing (2004), the inaugural freshman class graduation (2007), CI's accreditation granted by the Western Association of Schools & Colleges (2007), Nobel Peace Prize Laureate Muhammad Yunus's visit and founding of CI's California Institute for Social Business (2010), and CI's Hispanic Serving Institution designation by the U.S. Department of Education (2010), to name a few.
Accompanying the photo exhibit and timeline are several display cases featuring memorabilia and ephemera on CI's first 10 years, including campus expansion, the Broome Library, student clubs and organizations, CI publications, and television shows and movies filmed at CI. Since 2002, CI has expanded to over 1200 acres, coupled with renovation projects and new construction on campus with Aliso Hall, Anacapa and Santa Cruz Villages, Martin V. Smith Center for Integrative Decision-Making, the Student Union, and more recently, Del Norte and Madera Halls. CI's modern architectural gem is the John Spoor Broome Library, a 21st century digital teaching library designed by world famous architect Lord Norman Foster.
CI's six founding student organizations in 2002-03, Student Government, CI View, Student Programming Board, Gamma Beta Phi, M.E.Ch.A., and Zeta Pi Omega, have now grown to over 50 active student clubs and organizations and intramural sports clubs, such as CI's award-winning Sailing Club. Many television and film productions were filmed at CI, including feature films Pearl Harbor and The Ring, popular shows like Buffy the Vampire Slayer and The Biggest Loser and even music videos from artists such as 'N Sync.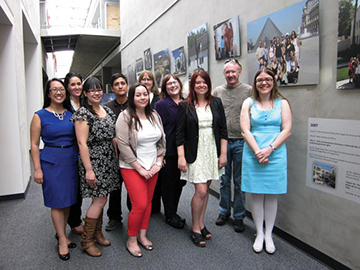 The library's photo exhibit team: Front row, left to right: Elnora Kelly Tayag, Kaela Casey, Alysha Cordova, Sarah Martinson, Laura Worden; Back row, left to right: Martha Reyes, Marco Ruiz, Barbara Cullin, Evelyn Taylor, Ben Hipple
The exhibit continues in the Millennium News Center, where visitors can see the original vision and model of the Broome Library and learn about John Spoor Broome, the Library's benefactor. On the walls are various t-shirts from over the years and an electronic slideshow that reflects the spirit of CI and student life. Visitors and children can also enjoy putting together two CI picture puzzles. Additionally, there is an interactive poster where visitors are asked to share their favorite CI memories and accomplishments, which will be archived at the Library. 
The 10th Anniversary Exhibit will be on display until August 31st. Docent led architectural tours are offered Fridays at 10:30 a.m. on June 28, July 26, and August 23. To RSVP for docent tours, please visit the Library website at https://library.csuci.edu/. Broome Library summer hours are Monday ­– Friday 9 a.m. to 4 p.m. and closed weekends.