Turning Profit Into Philanthropy
By Marya Jones Barlow

It's been a productive and promising year for CI's California Institute for Social Business (CISB). Four years ago, the institute became the first in the nation to launch an undergraduate program in the fast-growing and understudied field of social business. Today, it's breaking new ground, with the help of a new director, dedicated faculty, enthusiastic students, and a $300,000 grant infusion from the Conrad N. Hilton Foundation.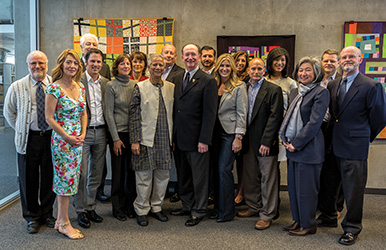 About Social Business
Social businesses tackle some of the world's most pressing challenges—such as poverty, hunger, sickness, education gaps and environmental problems—through a form of "enlightened capitalism." The innovative model developed by Nobel Peace Prize Laureate Professor Muhammad Yunus seeks to make social businesses sustainable—instead of relying solely on fundraising and donor support. Social businesses generate profits but reinvest them into the company to further its social impact, instead of distributing dividends.
About CISB
Formed in collaboration with Yunus in 2010, and part of the Martin V. Smith School of Business & Economics, CISB is the only institute in the nation to offer a Minor and Certificate in Social Business. More than 70 students are enrolled in CISB courses, learning how to use market-based principles to create social value and solve community problems. The institute also conducts research, helps community businesses and organizations convert to self-sustaining "social business-style" models, and provides consulting and incubation services for new social businesses.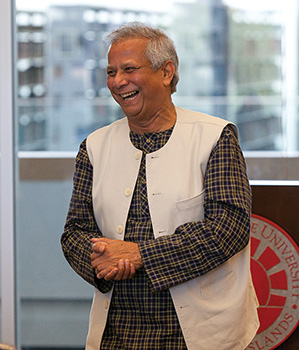 A New Home
In March, CISB opened the doors to the Social Business Development Center in Del Norte Hall. The new space is a think tank and collaborative workspace for the creation and support of social business, providing an open, creative environment for students and community partners to meet, brainstorm, and develop social businesses.
A Surprise Visitor
The Social Business Development Center was inaugurated with the visit of Professor Yunus on March 1. On campus to meet with President Rush, CISB campus constituents and community leaders, Yunus surprised students working in the Center by sitting down and brainstorming with them about their social business projects and ways to tackle the issue of food insecurity in Ventura County.
"What we develop here is not a local solution," Yunus told the group. "It may start as a solution for a local problem but it becomes a global propriety, a global knowledge. It immediately becomes useful for everyone and everybody remembers that this has been done by the CSU Channel Islands campus."
New Partners, Projects and Potential
CISB has launched several new programs and partnerships, including teaching social business to high-schoolers in the Los Angeles Unified School District and advising nonprofits on how to utilize social business to develop additional self-sustaining income. CISB students are working with Pleasant Valley Neighborhoods for Learning, Segue, the Community Gardens in Oxnard, and coffee farmers in the Dominican Republic on developing social business plans.

Return to the Table of Contents
© Spring 2014 / Volume 18 / Number 1