From Channel Islands to the Emerald Isle
Nursing Students Experience Ireland
By Marya Jones Barlow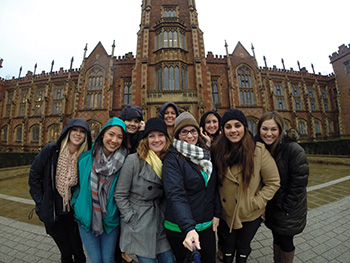 Ten nursing students headed to Ireland over winter break to take part in an inspiring and enlightening comparison of U.S. and Irish healthcare and culture. The new collaboration between CI and Dublin's prestigious Trinity College exposed the students to an intensive, two-week, for-credit program exclusively designed for CI nursing students.
Led and co-developed by Irish native and CI Assistant Professor of Nursing Pauline Hunter with partners at Trinity College, the trip gave students the chance to learn from faculty in the internationally renowned nursing school, interact with Irish healthcare authorities, meet international nursing students, hear from leading researchers, visit hospitals and clinics, and draw first-hand perspectives on socialized medicine as well as the different health structures, challenges and solutions in Ireland. The first participants for the UNIV 392 course, Globalization and Healthcare (Study Abroad in Ireland), were selected through a competitive process that weighed their applications, essays and academic performance.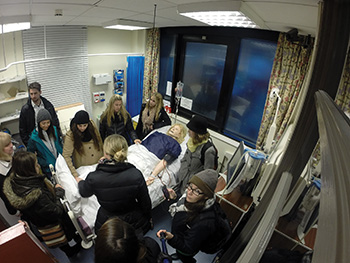 "We are delighted to be collaborating with Trinity College and welcome the opportunity to work toward building further international collaborations in the areas of research and education," Hunter said. "As our patients become more multicultural, it's imperative for nursing students to have a global perspective on healthcare delivery models, trends and best practices. This trip also gave them a chance to see socialized medicine in action— something that will be helpful as the U.S. continues to implement the Affordable Care Act."
Among the highlights, the group met the Health Minister of Northern Ireland and learned about the influential role nurses play in the country's health policy. They also witnessed the collaborative peer relationship between Irish physicians and nurses. In addition to an intensive daily class schedule, the students had opportunities to experience Irish landmarks and culture, with trips to the Science Gallery, the Book of Kells, the scenic North Coast, the Giant's Causeway, and Blarney Castle, home of the famed Blarney Stone. Students kept daily journals and completed a final paper. The trip culminated in a vigorous debate on the merits of American vs. Irish healthcare systems—with students equally divided on which system was better.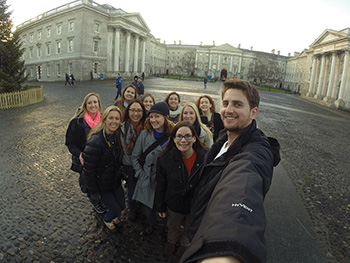 Nursing student Carl Eisenthal found the trip invaluable and eye-opening, both personally and professionally.

"It definitely changed my perspective on U.S. healthcare—especially the financial side," Eisenthal said. "In Ireland, everyone gets public healthcare, and there's a cap so that they don't spend more than a certain amount per year on it. Meanwhile, many people in the U.S. go bankrupt because they cannot afford to pay their medical bills. However, the meager pay that Irish nurses earn really shocked me."

"Personally, I recommend the trip to every nursing student," he added. "I really connected with the Irish people, and learned much more than I ever could have from a textbook or a presentation."

Return to the Table of Contents
© Spring 2014 / Volume 18 / Number 1