Riveting Reads
New Faculty Books published from 2013 through spring 2014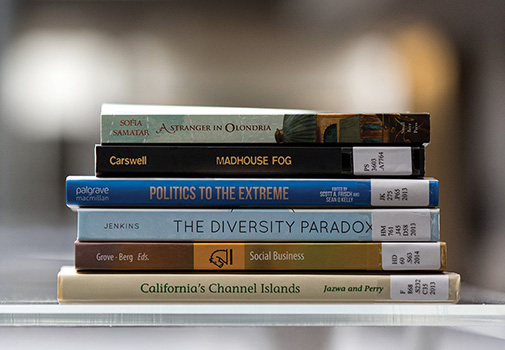 Madhouse Fog
by Sean Carswell (Manic D Press, 2013)

Assistant Professor of English Sean Carswell set his fifth book in the strangely familiar setting of a Southern California psychiatric hospital that was once a college. The central character takes a seemingly benign grant-writing job at the hospital—only to become ensnared in a dark, humorous plot involving offbeat characters, unorthodox research, rekindled romance, and potential murder.
A Stranger in Olondria
by Sofia Samatar (Small Beer Press, 2013)

Assistant Professor of English Sofia Samatar's first novel is a coming-of-age fantasy exploring themes of travel, exile and the conflict between oral and written ways of knowing. Her protagonist, Jevick, travels to a distant utopia only to find himself haunted by a ghost and enmeshed in a war between two powerful cults. A Stranger in Olondria is the winner of the William L. Crawford Award for best fantasy debut, awarded by the International Association for the Fantastic in the Arts.
Politics to the Extreme: American Political Institutions in the 21st Century
by Sean Kelly and Scott Frisch (Palgrave Macmillan, 2013)

Political Science Professors Scott Frisch and Sean Kelly conceived and edited this collection of essays from nationally-recognized political scientists, probing the causes and consequences of ideological polarization and effects of hyper-partisanship in the American political system. Several of the essays propose solutions for bridging the divide and restoring effective government.
Social Business: Theory, Practice and Critical Perspectives
by Andrea Grove and Gary Berg (Springer, 2014)

In the first college text to address the fast-growing and understudied field of social business, Professor Andrea Grove and Associate Vice President for Academic Affairs Gary Berg present a collection of articles and case studies that examine the ways business is used to create positive social change. The book features a foreward by social business innovator and Nobel Peace Prize Laureate Muhammad Yunus and articles by CI faculty members Antonio Jimenez-Jimenez, Maria Ballesteros-Sola, and California Institute for Social Business Director Martin Loeffler.
California's Channel Islands: The Archaeology of Human-Environment Interactions
by Jennifer Perry (University of Utah Press, 2013)

Jennifer Perry, Assistant Professor of Anthropology, is co-editor and co-author of a uniquely holistic investigation of all eight Channel Islands, integrating archaeology, history and ethnography. The book traces the islands' history from the first human occupation to the tragic story of historic depopulation in the 19th century.
The Diversity Paradox: Seeking Community in an Intercultural Church
by J. Jacob Jenkins (Lexington Books, 2013)

In this book, currently nominated for the 2013 National Communication Association's International and Intercultural "Best Book Award," Assistant Professor of Communication Jacob Jenkins conducts a compelling case study of how an urban and racially/ethnically diverse church in Tampa Bay promotes "community" as an organizational metaphor.
Navigating the Spanish Lake: The Pacific in the Iberian World, 1521-1898
by Rainer F. Buschmann, Edward R. Slack Jr., and James B. Tueller (University of Hawaii Press, 2014)

CI History Professor Rainer Buschmann joins colleagues from Eastern Washington University and Brigham Young University Hawaii in a pioneering examination of the implications and legacies of the Spanish exploration and colonization of the Pacific Ocean.
Iberian Visions of the Pacific Ocean 1507-1899
by Rainer Buschmann (Palgrave Macmillan, 2014)

In this forthcoming book, Rainer Buschmann, Professor of History, explores the alternative Spanish visions of the Pacific Ocean to offset the prevalent Franco-British notions of the largest geographic region on Earth.
Using IBM® SPSS® Statistics for Research Methods and Social Science Statistics Fifth Edition
by William E. Wagner, III (SAGE Publications, 2014)

Now in its fifth edition, written by Sociology Professor Billy Wagner, this textbook is a renowned and reliable resource for students learning to use IBM's SPSS Statistics software and an ideal companion for social science statistics and research methods classes.

Return to the Table of Contents
© Spring 2014 / Volume 18 / Number 1