From 'Me' to 'We'
The Power of Connection on a Study Abroad Trip to Japan
By Christy Teranishi Martinez, Associate Professor of Psychology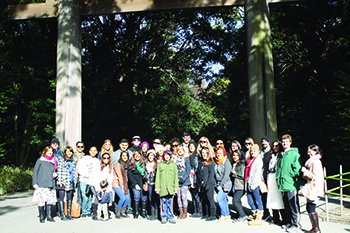 In Fall 2013, I co-taught UNIV392 Cross-Cultural Psychology and Diversity in Japan with Kevin Volkan, Professor of Psychology, juxtaposing traditional Japanese history, religions, and culture with the modern youth culture of Goth-Lolita, manga, and anime. We incorporated experiential learning, traveling through the beautiful cities of Tokyo, Osaka, Kyoto, and Nara.
We witnessed students undergo challenges, transformations, and "aha" moments as they developed cultural immersion projects, dispelling preconceptions and stereotypes, and fostering awareness and appreciation of Japan's cultural diversity. In Harajuku, those who chose the Goth-Lolita subculture observed young girls dressed in Victorian costumes, bright pastels, and lace. They had fun taking photo booth pictures transforming into kawaii (cute) Japanese models with large defined eyes. Those who immersed themselves in anime and manga visited the Ghibli and Tezuka museums where the most influential anime films originated.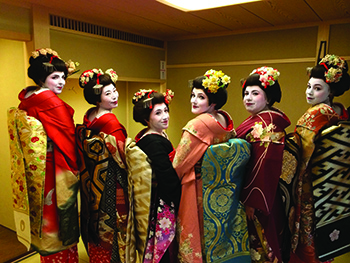 Traveling at speeds up to 190 mph, the bullet train took us from Tokyo to Osaka quickly, although time stood still alongside the incredible views of the snowcapped Mount Fuji. After strolling through Kyoto's Gion district, students who chose to observe tea ceremony and geisha cultures dressed up as maiko, geisha in training.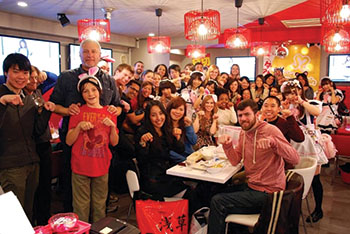 While some focused on Japanese food culture, our meals together left a lasting impression. In Osaka, we experienced "Japanese soul food," okonomiyaki, a savory pancake filled with meat, fish, and vegetables. Students' eyes got big and jaws dropped as we entered a maid café where waitresses dressed as sexy maids treated us as masters, amusing us with theatrical entertainment.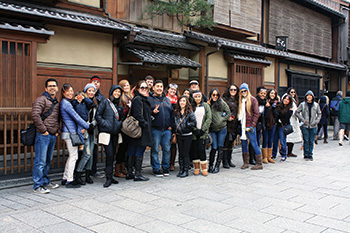 One student had never flown on a plane or ventured far from home. As he prepared for his first international journey, he learned he had relatives in Tokyo he had never met. I was lucky to witness such a heartfelt moment as the entire family came to welcome him to Japan—bringing omiyage (gifts) and sharing family stories as if they had known each other for years. He certainly developed a new understanding of the meaning of "extended family."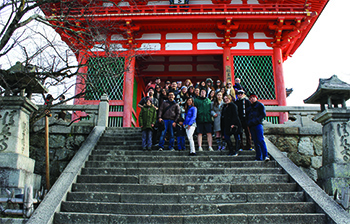 Despite challenges of sickness, perpetual tardiness, and lost passports and rail passes, in a small close-knit, densely populated country, students forged a new sense of identity and group cohesion. Twenty-seven students who started off as strangers, returned home invigorated by values of empathy, respect, and unity, and developed a deep connection with one another. Japan touched their lives in ways they never imagined—evolving from a caterpillar into a butterfly, they experienced an incredible cultural transformation.

Return to the Table of Contents
© Spring 2014 / Volume 18 / Number 1