Manijeh Motaghy, '05 B.A. Psychology
Mindful business expert
By Marya Jones Barlow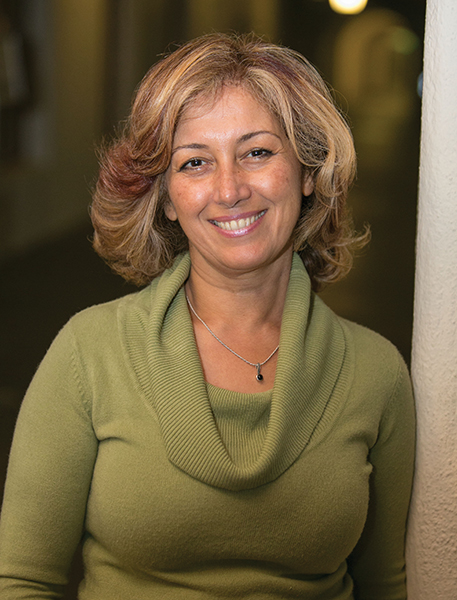 Manijeh (Kuchikali) Motaghy will forever remember CI Psychology Professor Kevin Volkan's Asian Thoughts class as the catalyst that changed her life.
"We were studying Buddhism and a thought came to me that said, 'I am a Buddhist,'" she recalled. "Finally, there was some formal teaching that encapsulated what I had always believed and tried to practice. That class was a huge door to happiness."
That realization, at age 40, set Motaghy on a fulfilling career path combining her work as an organizational management consultant with the teaching of mindfulness and meditation, long before it gained popularity in the business world.
Motaghy went on to earn her doctorate in Organizational Management Consulting from Phillips Graduate Institute in Los Angeles and attained certification as an Authorized Mindfulness Teacher from UCLA's Mindfulness Awareness Research Center.
Today, she brings her expertise as a trainer, author, speaker and teacher to organizations and individuals throughout Southern California. With her guidance, students and clients learn how to use mindfulness and meditation to manage stress, emotions, thoughts and perceptions, and enhance success and well-being.
As founder of Mindful Business Institute, Motaghy leads workshops, retreats and training sessions for Health Net, the Motion Picture & Television Fund, the Los Angeles Unified School District, the Girl Scouts of America, and CSU Channel Islands, to name a few.
As co-founder and executive director of Mindful Valley, she conducts classes and retreats in Los Angeles and the San Fernando Valley for people seeking to improve their personal and professional lives through mindfulness and meditation.
And as an instructor at UCLA's Mindful Awareness Research Center, she teaches six-week Mindful Awareness Practices courses for anyone hoping to apply mindfulness in their daily lives.
Motaghy's services are in high demand in corporate, public, academic and nonprofit settings, where she offers a secular version of mindfulness that teaches the principles and practice of meditation without focusing on Buddhism.
"I feel like I discovered a mountain of gold and there's no end to it," she said. "I love sharing it with others and seeing them learn about their own minds, manage their emotions, and become happier people and employees."
Motaghy moved to the U.S. from Iran during high school and adapted to a new language and culture before earning a fashion degree, getting married, and having two children. After nearly 20 years co-managing her husband's medical lab business, Motaghy still felt unfulfilled. Years of soul-searching led her to enroll in CI's Psychology program in 2003.
"CI was my heaven," she recalled. "I loved every moment of it. Beautiful campus, welcoming people. A truly student-centered mission in action."
Motaghy became president of the Psychology Club, sat on the Diversity, Humanity and Cultural Committee, and was named "Who's Who Among Students in American Universities and Colleges" – all while raising two school-aged boys and commuting from the Valley.
After graduating in 2003, she served on the Board of Directors for CI's Alumni & Friends Association for six years.
Today, she's proud to have high-profile clients while also doing public service—with over 12,000 hours of volunteer work to build Mindful Valley as a nonprofit.
"My students often tell me this is saving their life and allowing them to be happy," she said. "This is when my mission is accomplished over and over."
Return to the Table of Contents
© Spring 2015 / Volume 19 / Number 1 / Bi-annual