The Scott family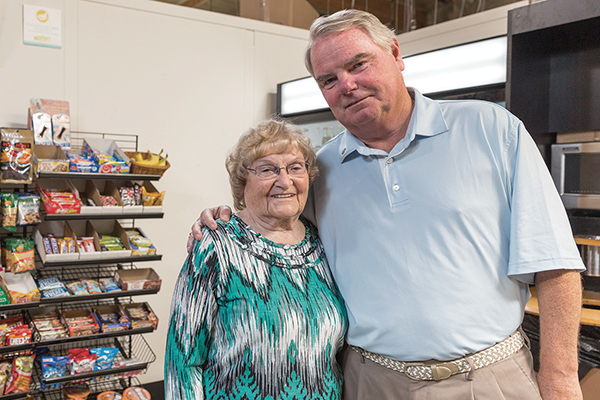 Two generations give CI support
By Marya Jones Barlow

Long before there was a campus—or even a name—for Ventura County's four-year public university, the Scott family was championing it. Early supporters of the University since the 1970s, Gerald (Scotty) and Dorothy (Dotty) Scott passed that zeal to their children, Jerry, Mark and Andrea. Today, the family is a key sponsor of scholarships, events and other gifts, providing assistance personally and through their family-owned and operated vending service business, Canteen of Coastal California.

"CI is an asset to the community," said Dotty Scott. "When you support the University, you're supporting the entire community."

The family settled in Oxnard in 1972, when Scotty, a Navy veteran of World War II, started his own franchise of Canteen, the national vending company where he climbed the ranks from serviceman to Bay Area General Manager. The family business grew into the region's largest vending service operator, now with 59 employees serving Ventura, Santa Barbara, Los Angeles, Kern, and San Luis Obispo Counties.
"

When you support the University, you're supporting the entire community

."  –Dotty Scott
Active philanthropists, the Scott family supports causes ranging from children's charities and food banks to cancer research, cultural institutions and education. Unable to complete college themselves due to economic conditions and busy work and family lives, Scotty and Dotty wanted to make the opportunity available to needy students in their community.
Along with their three grown children, who are now running the family business, they established the Scott Family Endowed Scholarship, which sponsors students in their studies at CI. Though Scotty passed away in 2006, the family carries on the business and philanthropic outreach, extending support to more than 50 organizations throughout the region.
"As business owners, we have a stake in creating a healthy community and business environment in Ventura County," said Jerry Scott, Vice President and General Manager of Canteen of Coastal California. "By investing in CI, we can be part of the effort to create a more highly skilled, educated workforce and to attract and retain businesses in our region."
The Scotts and Canteen of Coastal California are keen contributors, providing everything from scholarship and sponsorship funds to water, sodas and snacks for campus relays and events.
They also recently became the lead donors for the Founder's Court, CI's newest fundraising initiative to launch an intercollegiate athletics program. Avid golf and sports enthusiasts, the family looks forward to contributing another significant step in CI's advancement.
"An athletic program is something that will really promote health and wellness and build on CI's culture of camaraderie and community partnership," Jerry said. "We love seeing how beautifully the campus has transformed and knowing that something tangible is happening as a result of our involvement."
Return to the Table of Contents
© Spring 2015 / Volume 19 / Number 1 / Bi-annual