Longtime CI benefactor receives honorary doctorate
By Marya Jones Barlow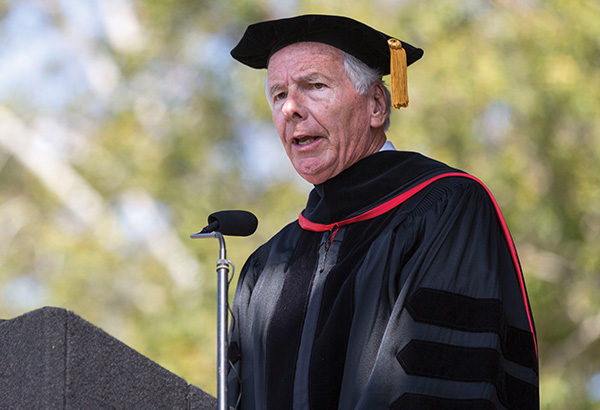 When William "Bill" Kearney helped lay the foundation for a four-year public university in Ventura County more than 15 years ago, he never dreamed he'd end up earning its most distinguished degree.
On May 16, Kearney was awarded an honorary Doctorate of Humane Letters at CI's 2015 Commencement ceremony, alongside more than 2,000 graduates whose path he helped forge as one of the University's earliest and most enduring champions.
"There is no way to describe what this honor means to me," he said. "I feel like an ordinary individual who won the lottery without purchasing a ticket. I have been such a small part of our University's development that the honor still feels unreal."
Kearney's sentiments reflect a humble modesty that is one of his hallmarks. A Senior Vice President of Private Wealth Management at Merrill Lynch in Oxnard, he has donated significant time, talent and financial resources to CI and to organizations throughout Ventura County.
He and his wife, Elise, became founding members of the President's Circle in 1999 and played an instrumental role in CI's growth ever since. In 2003, Kearney joined the University's Foundation Board of Directors, serving as Chairman from 2007 to 2009.
Over the years, he's secured hundreds of thousands of dollars in donations from local sponsors, resulting in the creation of student scholarships, the attainment of the Robert J. Lagomarsino Archives, the design and construction of the Margaret Tiplady Burgess Courtyard, and the building of the Central Mall Fountain.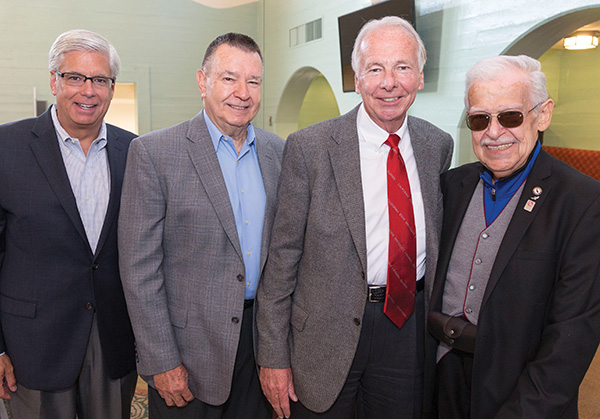 Kearney also regularly mentors CI students and graduates and volunteers for campus initiatives and events. Among his many community involvements, he has served on governing boards for Casa Pacifica, United Way of Ventura County, Community Memorial Health System, Rubicon Theatre, Rotary, and the Boys and Girls Club. His service has earned him such honors as Ventura County Philanthropist of the Year, CI's Lagomarsino Award, and a Merrill Lynch Lifetime Achievement Award.
"In Bill you will find a leader who maintains high ethical standards, actively works for the betterment of humankind, is generous in all areas of his life, is driven for excellence, and brings joy to all who know him," said CI President Richard R. Rush. "Bill is a humble man who does not seek grand recognition or attention. Rather, he finds satisfaction in knowing his service is benefiting those in need."
Born and raised in Pomona, Kearney earned his degree in economics at UCLA while working in a factory and driving a truck.
"My college experience was one of the most enjoyable and valuable aspects of my life," he said. "As such, I very much appreciate the availability of an affordable higher education option for our students."
Return to the Table of Contents
© Spring 2015 / Volume 19 / Number 1 / Bi-annual