A professor supports his 'students for life'
Professor of Chicana/o Studies José Alamillo is recognized for cultivating enduring bonds with students and community
By Marya Jones Barlow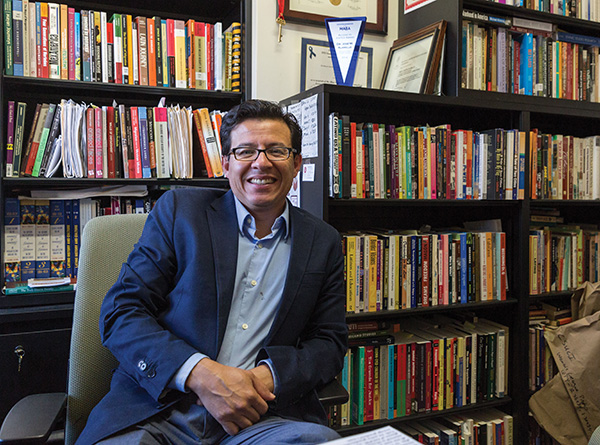 Erika Landa had a painful secret and there was only one person she trusted to tell.
The first-year CI student was supporting herself through college and had run out of money for food and housing. As an undocumented resident, she was ineligible for federal aid or legal employment and couldn't afford a $465 work permit application.
Landa was too ashamed to continue imposing on friends for a place to sleep. After spending two nights in the North Quad on the CI campus, she thought of one person she would feel comfortable approaching: Professor of Chicana/o Studies José Alamillo.
"I didn't feel safe talking with people about my undocumented status," she said. "But Professor Alamillo was someone I could connect to because he was an undocumented student himself."
Alamillo helped Landa find food, housing and a job on campus. He also earned a role in Landa's life that made him more than a professor.
"He's not just a mentor, he's a lifeline. He's kind of become the father I didn't have growing up," she said. "Professor Alamillo goes beyond what his job is to help students and does everything in his hands to protect us."
Alamillo, who joined CI in 2008 to build its Chicana/o Studies program, is well-known in and outside of CI for his extraordinary care and involvement.
"I always tell my students, 'Once you become my student, you become my student for life,' " he said. "I had mentors who went out of their way to help me and show me the path toward achieving my goals. I realized how important that was. I consider that part of my job."
"Once you become my student, you become my student for life." –José Alamillo
Born in Zacatecas, Mexico, Alamillo came to the U.S. at the age of 7, following parents who were workers in the lemon industry. Growing up in Ventura, he took part in University of California, Santa Barbara's (UCSB) Educational Opportunity Program, which encourages minority students to pursue higher education. After graduating from UCSB, Alamillo earned his master's and Ph.D. at University of California, Irvine and taught at Washington State University before coming back to Ventura County in 2008.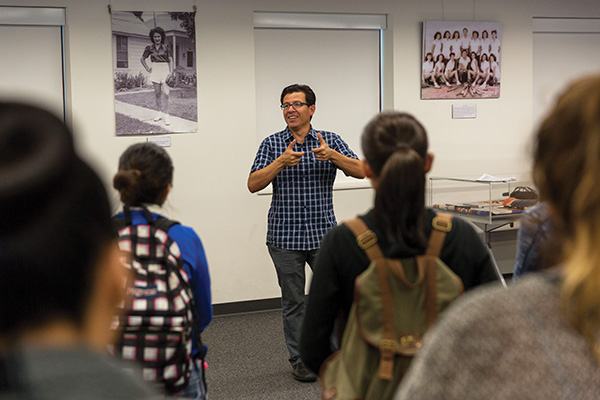 "I'm proud to be in my hometown, helping to build a university that empowers students to overcome educational barriers so they can lift their community," he said.
In addition to teaching courses like Chicana/o History and Culture, Transborder Perspectives, and Diversity in Latino/a Communities, Alamillo leads students in community-based projects. His classes have documented the stories of Ventura County's braceros for an exhibition partnering with the Smithsonian, showcased the role of Mexican-American women in baseball and softball, and preserved the history of Oxnard's Wagon Wheel neighborhood. They've also taught English and computer literacy to immigrants and helped Oaxacan refugees facing deportation win asylum.
He volunteers his time to the Mixteco/Indigena Community Organizing Project's Tequio Scholarship Committee, Clergy & Laity United for Economic Justice-Ventura County's Advisory Board, and serves as an advisor for CI DREAMers, a campus club formed by Landa to support undocumented students. The club name is derived from the DREAM Act, which stands for Development, Relief and Education for Alien Minors.
Alamillo's efforts recently earned him CI's 2014 Faculty Award for Community Engagement, the Ventura County Mexican American Bar Association's Access to Justice Award, and the 2015 El Concilio Latino Leadership Award.
"I try to create home and community wherever I go," he said. "In a classroom, on campus, in any event I organize, my goal is to help people meet, nurture and learn from each other."
A formidable tennis player, Alamillo enjoys focusing his research and writing on Mexican-American athletes and their cultural influence. He recently co-authored "Latinos in U.S Sport: A History of Isolation, Cultural Identity, and Acceptance," the first textbook to deal comprehensively with the topic. He's currently working on a book about the history of Mexican-American baseball in Ventura County and the transnational migration of athletes who brought community pride on both sides of the U.S.-Mexico border. His co-author is former CI student Juan Canchola, who did research for the book as part of his Capstone project and became so invested, he continued working on it as a volunteer after graduating in 2014.
Alamillo has mentored so many "students for life," like Canchola and Landa that he lost count of their numbers long ago. But he hasn't lost the connections—or the rewards they keep bringing him.
"It's a horizontal mentorship—I learn as much from them as they do from me," he said. "I never stop being surprised by how much they can teach me."
Return to the Table of Contents
© Spring 2015 / Volume 19 / Number 1 / Bi-annual