A ray of 'Sunshine' for students in need
By Marya Jones Barlow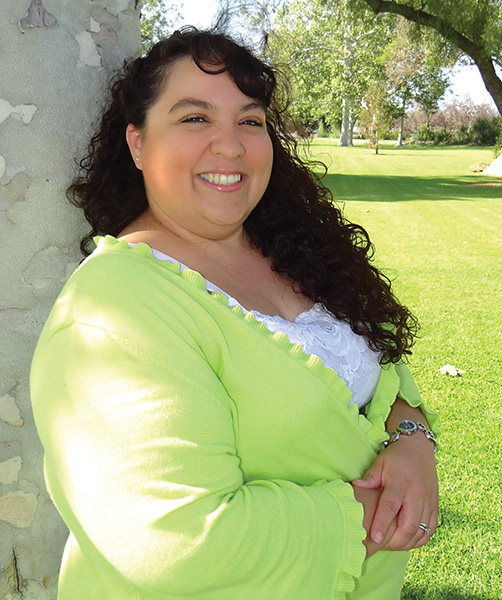 It may be comforting for prospective students to know that financial aid and scholarships at CI are overseen by a woman appropriately named "Sunshine."
Since 2011, Sunshine Garcia—known for her bright smile and cheerful disposition—has helped thousands of CI students finance their college dreams as Director of Financial Aid and Scholarships.
"I love my job because we really do get to change people's lives," she said.
Though her work affects all 76 percent of CI students who receive financial aid, Garcia manages the process mostly behind the scenes, supervising a 10-person team that administers over $50 million in federal, state and institutional funds each year. She spends the bulk of her time guiding financial aid policy and procedure and ensuring that CI is in federal, state and systemwide compliance.
As President of the California Association of Student Financial Aid Administrators (CASFAA), Garcia also presides over a statewide group representing more than 240 colleges and 1,000 professionals working to improve financial aid access for California students. Her role as CASFAA president occasionally places her in the national spotlight, meeting with legislators and advocating for students, financial aid professionals and federal aid programs on Capitol Hill.
It's a goal that has personal significance for Garcia, who paid her way through college and graduate school with the help of work study jobs, federal grants and loans. As an undergraduate at Azusa Pacific University, Garcia was hired as a student assistant in the financial aid office and instantly fell in love with her future career.
"I knew this was my calling and where I belonged," she said. "They treated me like family and mentored me."
Garcia worked in the financial aid office throughout college and landed a job there after graduation. She continued to climb through the ranks in positions at Everest College, Cal Poly Pomona, Sallie Mae and Cleveland Chiropractic College, and earned her master's degree before joining CI in 2011.
She brought with her a strong devotion to her staff—one that embodies the nurturing environment that launched her financial aid career at Azusa Pacific almost 18 years ago.
"I would not be where I am today without the constant support of my staff and their brilliant minds, dedication and humor," she said. "They are like family. We work hard and play hard, eat together, decorate for the holidays and spend many late nights together getting the job done for our students."
Garcia has inspired more than a few students to follow in her footsteps. Edgar Martinez, a Spanish major who started working with Garcia as a student assistant in 2012, is completing his degree while working as a full-time financial aid specialist at CI.
"Sunshine has made a major impact in my professional and academic undergraduate experience," he said. "She's an exemplary leader who works with her team as one and a mentor that I look up to and respect. One of my ultimate goals is to work in higher education and be a financial aid director like Sunshine, who has impacted so many individuals like me."
Garcia takes that role seriously and seeks out opportunities to counsel students when she can.
"A lot of students say, 'I don't want to take out loans,'" she said. "I share my story and tell them, 'You may have to borrow wisely.' It helped me to get where I am, so I'm very thankful."
Return to the Table of Contents
© Spring 2015 / Volume 19 / Number 1 / Bi-annual