A leader awakened
Student Government President Vanessa Bahena found her voice at CI
By Marya Jones Barlow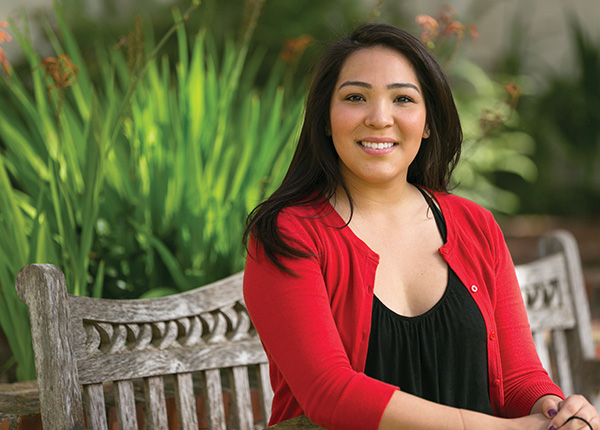 Vanessa Bahena's path to CSU Channel Islands began almost 12 years ago, on a fifth-grade class field trip to the newly- formed campus.
"I'll never forget the enthusiasm of the CI students who greeted us at the bus and helped us cross the street," she recalled. "They were so excited to share their passion for the University. It definitely made a lasting impression."
As Bahena graduates from CI this year, she hopes to leave an equally lasting impression on the institution that she has come to regard as "family".
The first two-term president to lead CI's Student Government, Bahena bequeaths a legacy of student advocacy and empowerment on issues ranging from campus expansion and sustainability to smoking and sexual assault. Her work to represent CSU students and influence policymakers as a board member on the California State Students Association (CSSA) has taken her from Camarillo to Capitol Hill. As a participant and mentor in CI's Equal Opportunity Program (EOP), she has inspired other students from challenged backgrounds not only to graduate from college but also to become active participants and leaders, earning her Maximus and EOP Student Leader of the Year Awards.
It's a trajectory that sometimes amazes Bahena, a first-generation college student from Echo Park who almost failed her high school government class.
"As a teenager, I struggled through the loss of my mother to cancer," she said. "When I came to CI, I was shy and scared, with no idea of what to expect. Suddenly, I had mentors who reached out and made me feel significant."
Bahena arrived on campus as a freshman in 2011, planning to major in Performing Arts. But after attending a Student Senate meeting on a whim, she was surprised by how friendly and welcoming it was.
"I saw all these juniors and seniors talking about so many things I didn't even realize existed on campus," she said. "Then the Vice President, Jason Barnes, turned to me and said, 'Thank you so much for showing up to our meeting. If you ever need anything, contact me.' I couldn't believe it was that easy to get involved."
After attending a leadership retreat led by Vice President for Student Affairs Wm. Gregory Sawyer, Bahena had a whole new outlook. She changed her major to Communication and ran for Student Senate in the following election.
"It was then that I connected politics with doing something fun and purposeful to make a positive change," she said. "CI is a place where administrators view students as partners in building a university that we can be proud of. I realized I wanted to make something of my time."
She ran for president as a sophomore, becoming the first EOP student to hold the office, then tackled leadership roles in the CSSA, which represents the interests of the CSU's more than 450,000 students. Bahena completed a coveted Panetta Leadership Seminar at CSU Monterey Bay and was re-elected Student Government President in 2014.
There are other highlights she remembers fondly, like speaking at commencement and taking the field as CI's student representative in front of almost 50,000 cheering fans at Dodger Stadium during a CI Alumni & Friends Association Dodger Day event.
"I grew up right across the street from Dodger Stadium," she said. "To stand on that same ground representing my community and to look out and see 1,000 members of my CI family in the stands wearing red was a powerful experience."
After graduation, Bahena plans to work in the nonprofit sector, pursue a master's degree in organizational communication, and one day obtain a doctorate in education, so she can inspire future college graduates and leaders.
"People with a story and a background like mine don't usually become student body presidents," she said. "It's taught me to never underestimate someone and always be willing to contribute to someone's growth."
Return to the Table of Contents
© Spring 2015 / Volume 19 / Number 1 / Bi-annual