MBA students shine in international Business Strategy Game
By Marya Jones Barlow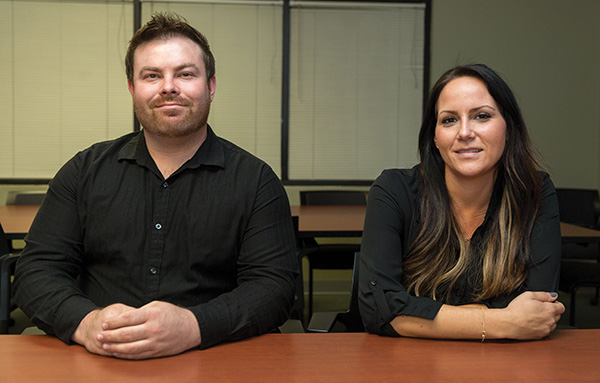 Not many MBA students can say they ran a multinational company for 10 weeks and made it a global leader. But Matthew Gobuty and Nicole Bogdanich, 2015 graduates of CI's MBA program in the Martin V. Smith School of Business & Economics, did just that in a worldwide online business game competition.
Gobuty and Bogdanich scored 10th out of 1,109 teams overall —coming within just two points of first place—in the Business Strategy Game (BSG). The game is an online simulation that places students in the role of CEO and CFO of a multinational company and tests their business knowledge and leadership skills. The pair beat teams from Australia to Bangkok, and ranked first in the key scoring measures of the game, stock price and earnings per share.
"I was fortunate enough to be partnered with a brilliant colleague," said Gobuty, who works as a project engineer for Taft Electric Company. "The courses leading up to the BSG really paved the way to our understanding of the intricacies of business reflected in the game. We achieved scores that compete not only with nationally-known private universities, but international schools as well. I think that this is an early indicator of the long-term value CI/MVS's MBA program has provided me."
"We were surprised and proud to do as well as we did," added Bogdanich, a restaurant manager. "It's a tough game; nothing like I have ever experienced or done. Our strategy was to make mostly small changes and anticipate our opponents' moves. It was a strategy of economies of scale—and it worked."
The Business Strategy Game is a common feature used in culminating—or "Capstone" —business classes at CI. Each student team competes to make its company the global market leader by creating and executing a strategy that results in a respected brand image, market leadership, and good financial performance, as measured by earnings per share, return on investment, stock price appreciation and credit rating. Along the way, the teams must make strategic decisions related to plant operations, distribution, warehouse operations, workforce compensation, online sales, retail sales, marketing and finance. Students compete against classmates and teams around the world.
"This is as close as we can get them to a comprehensive, real-life view of business," said William P. Cordeiro, Associate Vice President for Academic Affairs and Director of the MVS School. "It pulls together all the skills, analysis and techniques they've learned in earlier courses and parallels a real company's operation in a dynamic global market, incorporating teamwork, pressure under deadlines, constant change and integrated decision-making."
Return to the Table of Contents
© Spring 2015 / Volume 19 / Number 1 / Bi-annual