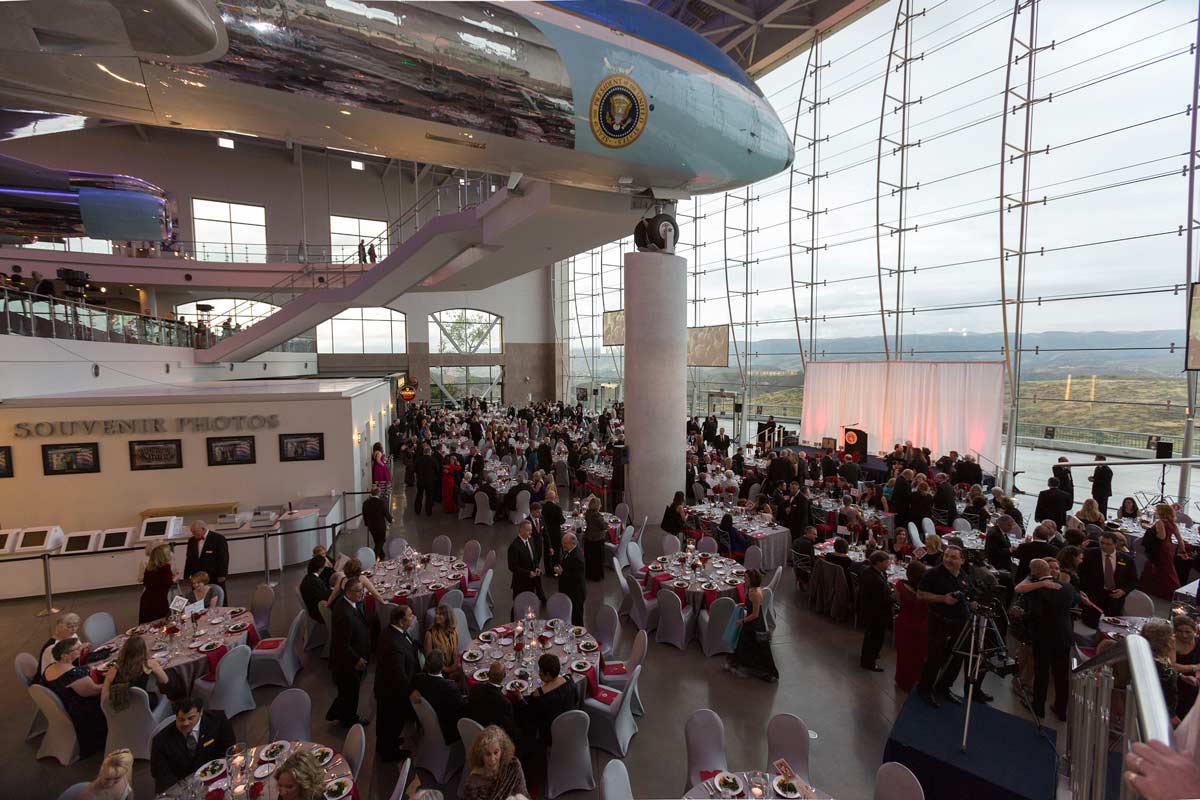 By Kim Lamb Gregory
 The 900 guests who attended a farewell dinner in honor of President Richard R. Rush saw poignant, humorous and sometimes tearful testimonies about the lives he has touched while building CI from the ground up.
"A Farewell Dinner Honoring the Presidency of Richard R. Rush" was held April 9 at the Ronald Reagan Presidential Library and Museum in the two-tiered Air Force One Pavilion ballroom.
The glittering, black-tie event included a cocktail tour, an invitation to tour Air Force One, a four-star, three-course meal, musical performances, dancing and a presentation that left the guest of honor, in his own words, "overwhelmed."
Tribute videos offered thanks from everyone from Ventura County Superintendent of Schools Stan Mantooth to Assemblymember Jacqui Irwin to Ventura County Community College District Chancellor Bernie Luskin.
Director of the Ventura County Office of Education Special Populations Educational Support Department Joe Mendoza thanked Rush for his sense of inclusion.
"I work with foster youth, migrant, homeless, farmworker's youth and teen parents," Mendoza said. "You opened the door to your university and welcomed them and allowed them to see that they indeed can dream about and work toward a university education."
Ron Werft, Chief Executive Officer for Cottage Health System in Goleta, spoke about how CI worked in partnership with Cottage Health to offer CI's first bachelor's degree in nursing.
Bishop Broderick Huggins, pastor of St. Paul Baptist Church, expressed his appreciation for how involved President Rush has been with the Oxnard church. Through its partnership with CI, St. Paul's has been able to offer a free health clinic, a free clothing "Street Store" and other services for those who live around the Oxnard church annex, many of whom are homeless, drug-addicted or low income.
When Rush took the stage to a standing ovation, he offered his deep appreciation to all who spoke and to all of those present, then reminded everyone that the entire community is responsible for what has become a jewel in the crown of the CSU.
"It's never been about me, it's always been about us," he said. "Because no one ever does anything as significant as creating a university by himself or herself."
Rush thanked the legislators who cleared the way to create a four-year public university in Ventura County and CI President Emeritus J. Handel Evans, who arranged to have the University built on the grounds of the former Camarillo State Hospital, opening up the world of public higher education to Ventura County.
"It was an opportunity to serve an underserved population that had no horizon beyond the lowest," Rush said. "What it really meant was, we could be the gateway to people's hopes."
He thanked his wife, Jane, and his family members, who were present for the ceremony. He then recalled that day almost 15 years ago when former CSU Chancellor Charles Reed asked Rush to create a new university.
To express what the last 15 years have meant to him, Rush summoned words from the poet Robert Frost, who wrote:
"Two roads diverged in a wood, and I  —  I took the one less traveled by, and that has made all the difference."
© Spring 2016 / Volume 20 / Number 01 / Bi-annual