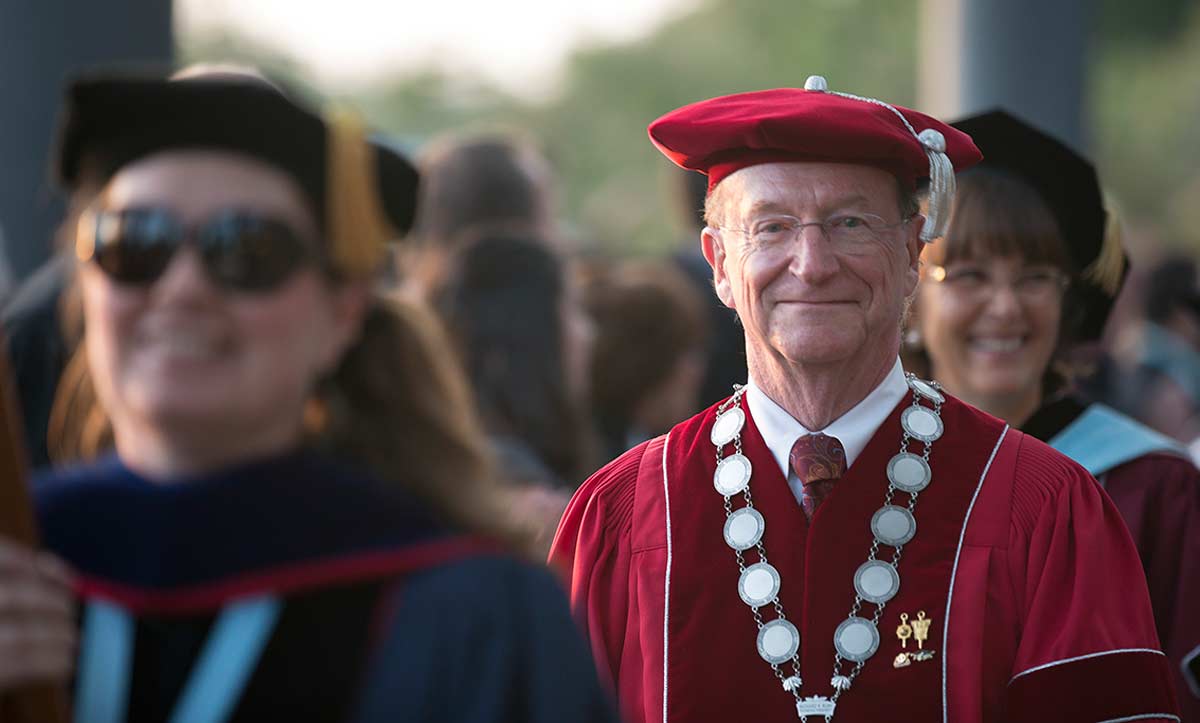 A retirement filled with spontaneity is the new mission for CI's founding president
By Marya Jones Barlow

After a jam-packed and strictly scheduled existence as CI's President for the past 15 years, Richard R. Rush has a simple plan for retirement.

"On Aug. 5, I'll walk out of the office and go home," he said. "The day after, I start living on impulse."

It's a foreign concept not only for Rush but also for those who have worked alongside him to build CI into the nations fastest-growing campus and a model of 21st-century higher learning.
Universities never come and go. They last for decades and centuries. They bring greatness to every society, every city, every state, and every country. They educate the future generations, and they create a framework for civility in our past. Thank you, President Rush, for building our future.

Blaise Simqu, President & CEO of SAGE Publishing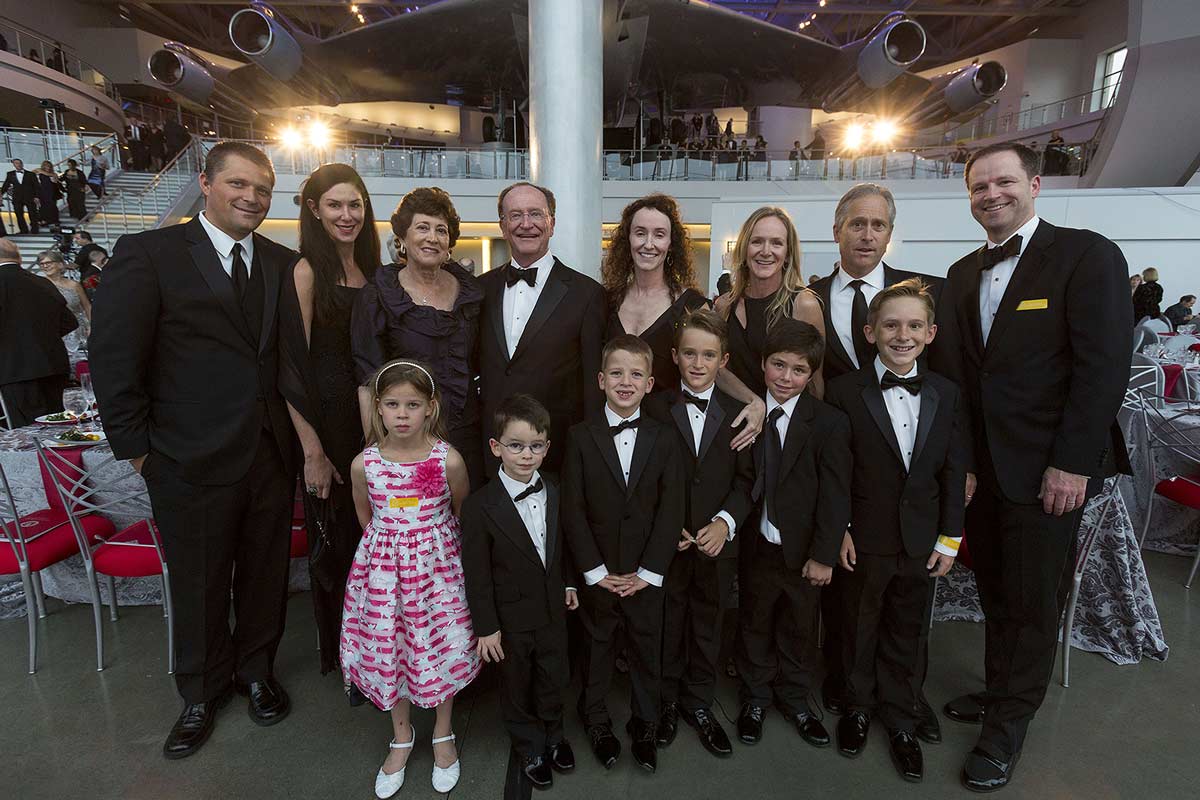 "I've never seen him take it slow," said Elizabeth Rubalcava, CI's Director of Advancement Special Projects. "I think he'll be challenged by the amount of free time he has, but he'll fill it with productive activities and world travel. He has tremendous energy and I've always been amazed by that."
"I'm looking forward to his doing less but being happy about it," said Jane Rush, his wife of 13 years. "He's such a workaholic. I'm not sure how he's going to occupy his time."
Rush explains candidly that he hasn't had much time to think about it. Even in his final weeks, he maintained the unbridled momentum that characterized his leadership. His parting goals are to leave the University in the best shape possible for his successor, Erika D. Beck, who takes office Aug. 8, and to offer thanks and goodbyes to faculty, staff and students.
"These people are my friends and I'll miss seeing them on a regular basis," he said. "I'll miss talking smack with the students. I'll miss the beautiful environment. I'll miss the continued feeling of collective success."
At the same time, Rush looks forward to retirement as an "adventure." Trips to Alaska and Italy are the first of many planned excursions with his wife. Once back home in Camarillo, Rush intends to resume his hobbies of reading, golfing, cooking, hiking and volunteering in the community. He's also eager to spend more time with his family, which includes Jane, two daughters, one stepdaughter, their spouses, seven grandchildren and a beloved labradoodle, Sophie.
"I want to be spontaneous," he said. "I want to wake up some mornings, hop in the car with my wife, and go wine tasting in Santa Ynez."
Much of what we have built these past many years is a direct result of your leadership, vision and civility. You are without question the best academic leader I have encountered in all my years of rambling across the higher education landscape.

Sean Anderson, CI Associate Professor of Environmental Science & Resource Management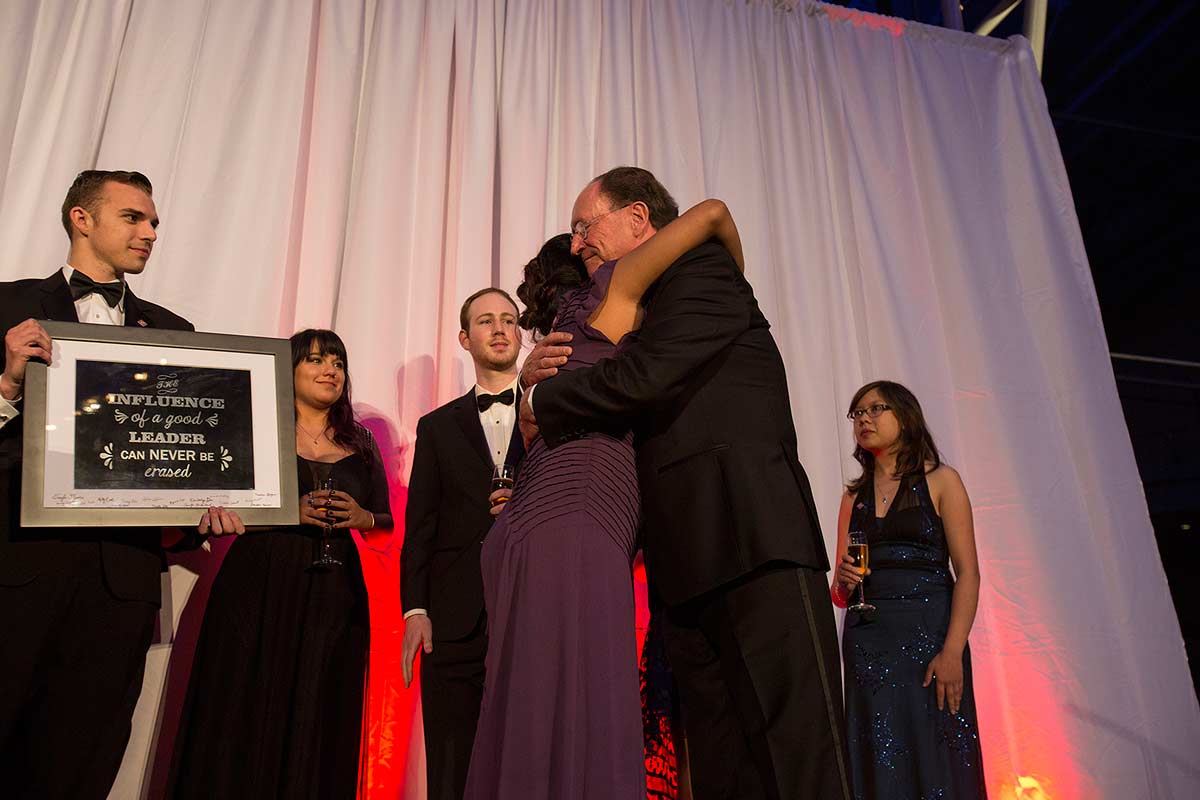 A Leader Called to Serve
Richard R. "Dick" Rush was born in Orange, New Jersey, in 1942. When he was six, his parents divorced and he moved across the country with his father, an executive starting up Prudential Insurance's West Coast office. The two lived in a one-bedroom apartment in the Los Angeles neighborhood known today as Little Ethiopia.
Young Dick Rush loved to play sports and enjoyed learning. When he reached Gonzaga University, his "mind really started to open up," stimulated by great professors. Rush triple-majored in philosophy, classics and English. He went on to earn a master's degree in English literature at UCLA, cementing his interest in teaching at a university. He earned a Ph.D. in English Renaissance Literature at UCLA and took his first faculty position at San Diego State University as an assistant professor of literature.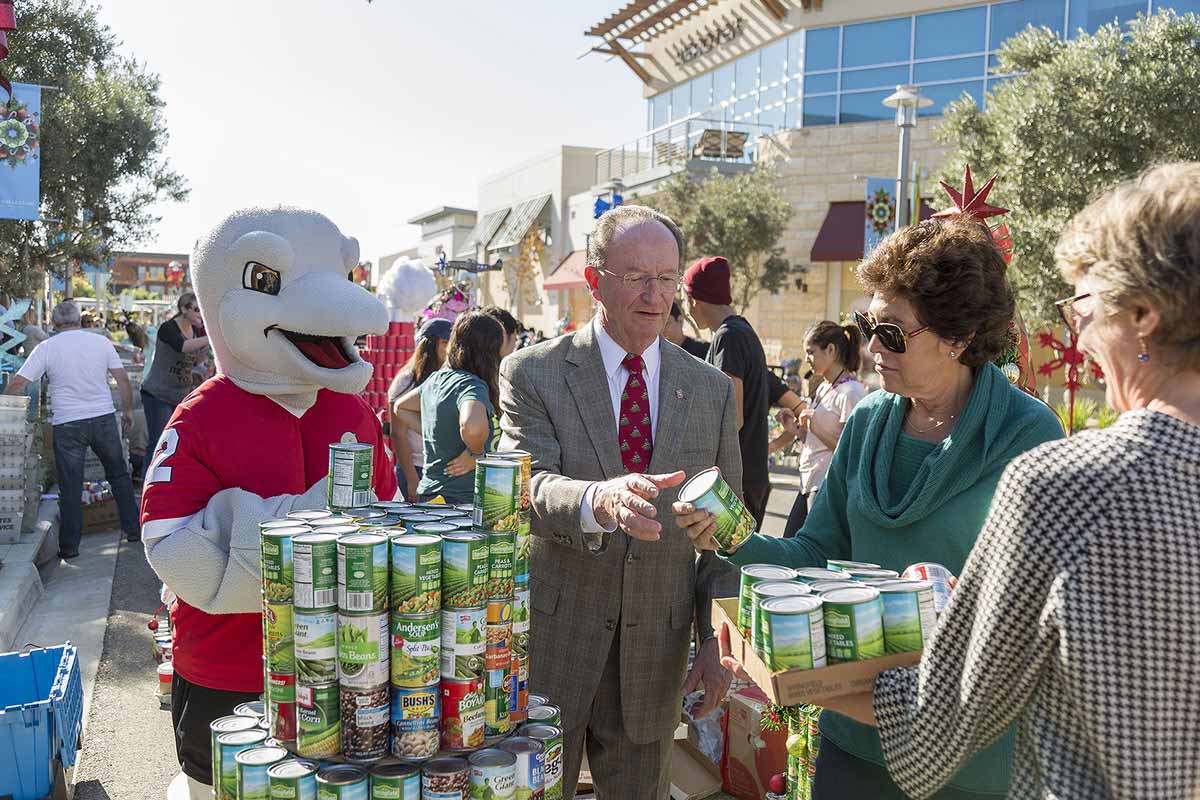 Rush thrived on his interactions with students and enjoyed being in the classroom. Those around him saw a leader.
"I had worked with many University Curriculum Committee Chairs before, but no one demonstrated the leadership and ability to get the job done in an efficient and timely manner as Dr. Rush," said Jane Smith, Assistant Vice President Emerita, Academic Services, at San Diego State University. "There was no question that he was a leader and respected by his peers."
Any time Rush attempted to step down and resume his scholarly work, he found himself elected or appointed to another leadership role. "I thought maybe this is where I'm supposed to be  —  in administration," he said.
Campus Creator
In 1984, San Diego State President Thomas Day asked Rush to help build the university's satellite North County campus as its director and dean. Subsequently, during the transition from San Diego State to Cal State San Marcos, he was appointed Vice President-In-Charge. Rush laid the groundwork for San Diego State North County to become the 21st and newest CSU campus  —  the first in more than two decades  —  as San Marcos' Executive Vice President.
"It was a huge risk because it had never been done before, so there was no model to follow," Smith said. "He was the creator. He had a profound impact on San Diego State University and the entire California State University system."
I can't imagine anyone doing the job as well and with as much caring and interest in the students, faculty and staff. You created a wonderful university that I am proud to be a graduate of.

Erika Butler-Ronchietto, CI alum and The Learningden Preschool Owner/Administrator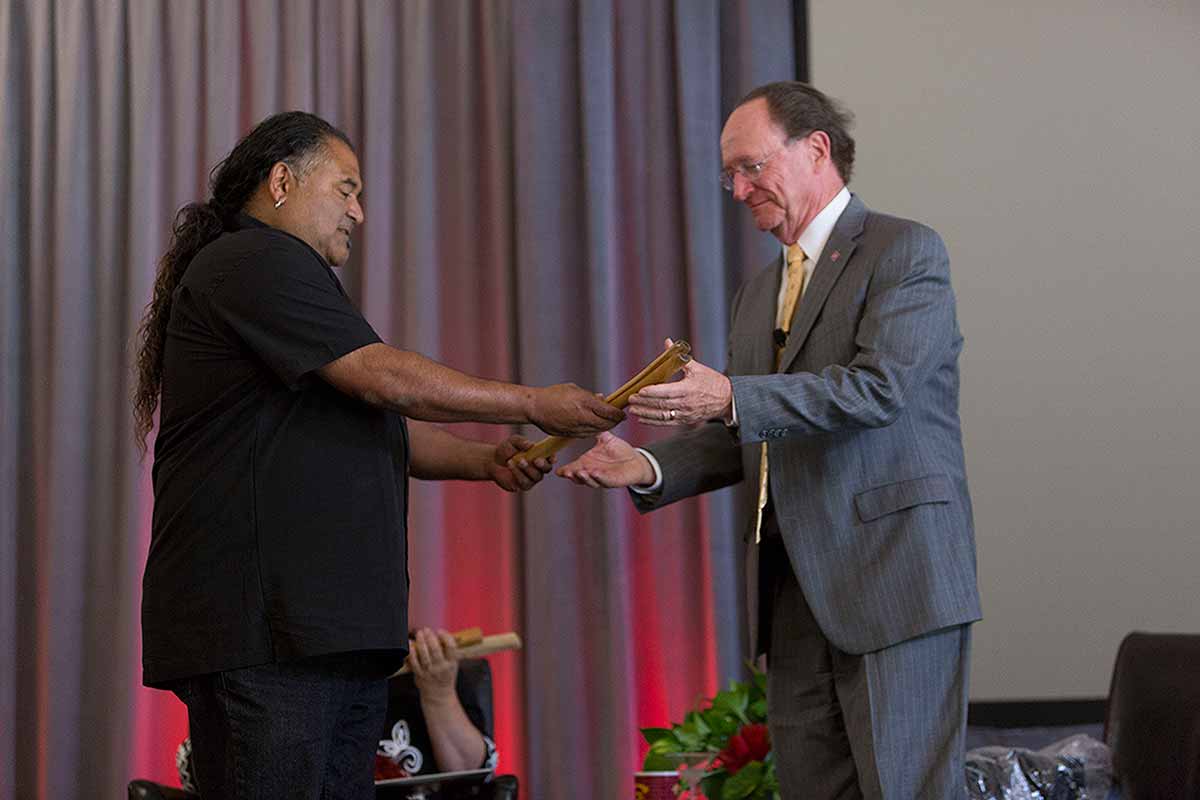 The People's President
In 1992, Mankato State University in Minnesota asked Rush to interview for a job as president. He "interviewed as a courtesy" and landed the job. During his nine-year tenure, Rush repositioned the campus as a dominant statewide university, changing its name to Minnesota State University, Mankato. He set fundraising records, instituted wireless campus initiatives and oversaw construction of MSU's black box theatre and sports arenas, among other legendary accomplishments.
Rush also earned a reputation as "the people's president" for regularly circulating among the university's 12,000 students. He spent the first week of each fall living in the residence halls, where he stayed up late talking with students and participating in pranks. He once was written up for making too much noise with students during quiet time.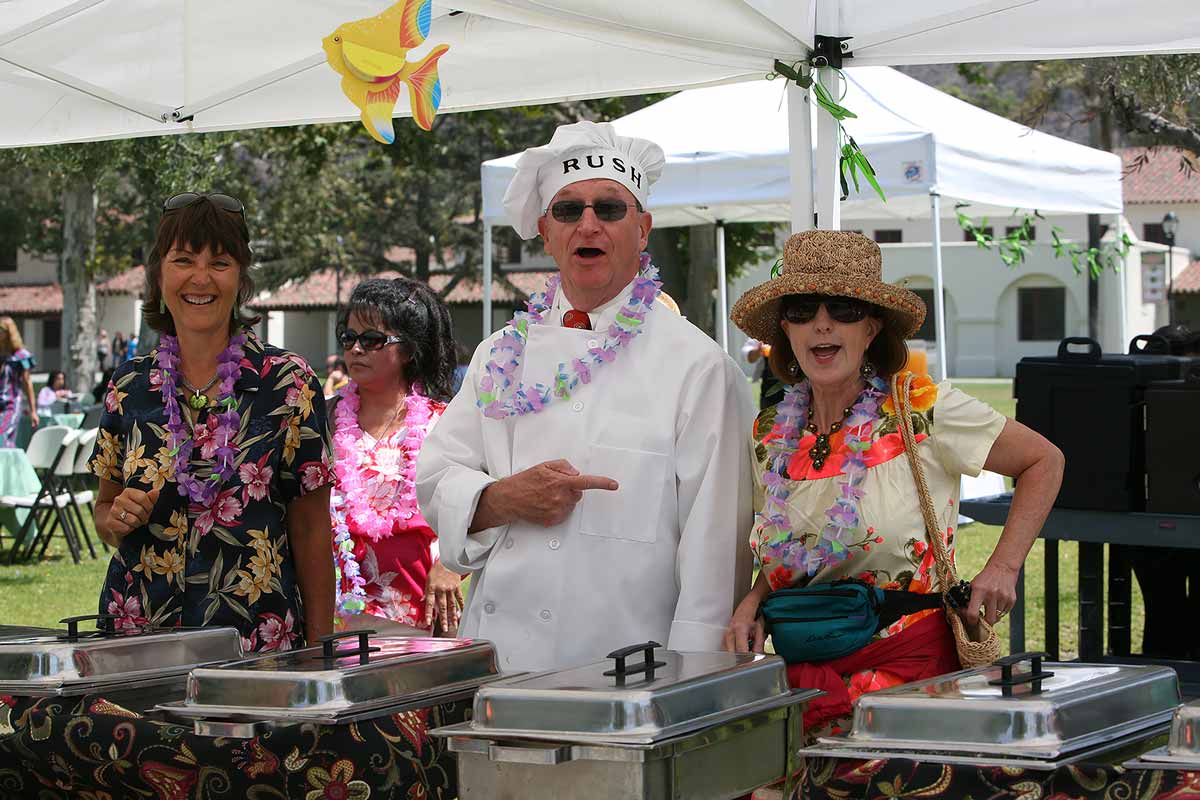 "Everyone loved having Dick Rush on campus," said MSU alumnus Tim Huebsch, Global Business Solutions Manager at General Mills, who considers Rush a lifelong friend and mentor. "He demonstrates servant leadership better than anyone I know. People always smiled when they saw him walking across campus."
Home at Last
In 2001, Rush was called back to California to be founding president of the CSU system's 23rd and newest campus. He embraced the familiar task of building a start-up university, transforming the former Camarillo State Hospital to welcome students as CSU Channel Islands in fall 2002, defining its vision and master plans, and hiring a team committed to make students the center of the educational experience.
"It's staggering to think back to those early days and look at all he's done," said Ted Lucas, who worked alongside Rush as Chief of Staff, Provost and Vice President for Academic Affairs. "Dick Rush is an unstoppable force for good. He had a vision from Day One that CI would become a beacon of opportunity for Ventura County. He rallied everyone behind that vision and never quit.
"In CI, he has built more than an institution. He's created an enduring, innovative and impassioned community."
Thank you President Rush  —  CI and Ventura County are better because of your leadership and foresight! You have left a lasting imprint on all of our lives. CI is truly 'our' university!.

Hank & Leah Lacayo
Rush personally interviewed more than 800 faculty candidates to build academic programs supporting 25 undergraduate majors, six master's degrees and a doctorate. Partnering with business and community leaders, he expanded opportunities for students to become key contributors to the region's workforce and prosperity. Under his leadership, CI's campus doubled in size, completed $233 million in buildings and renovations, awarded more than 10,000 degrees, and drew national acclaim for its people and programs.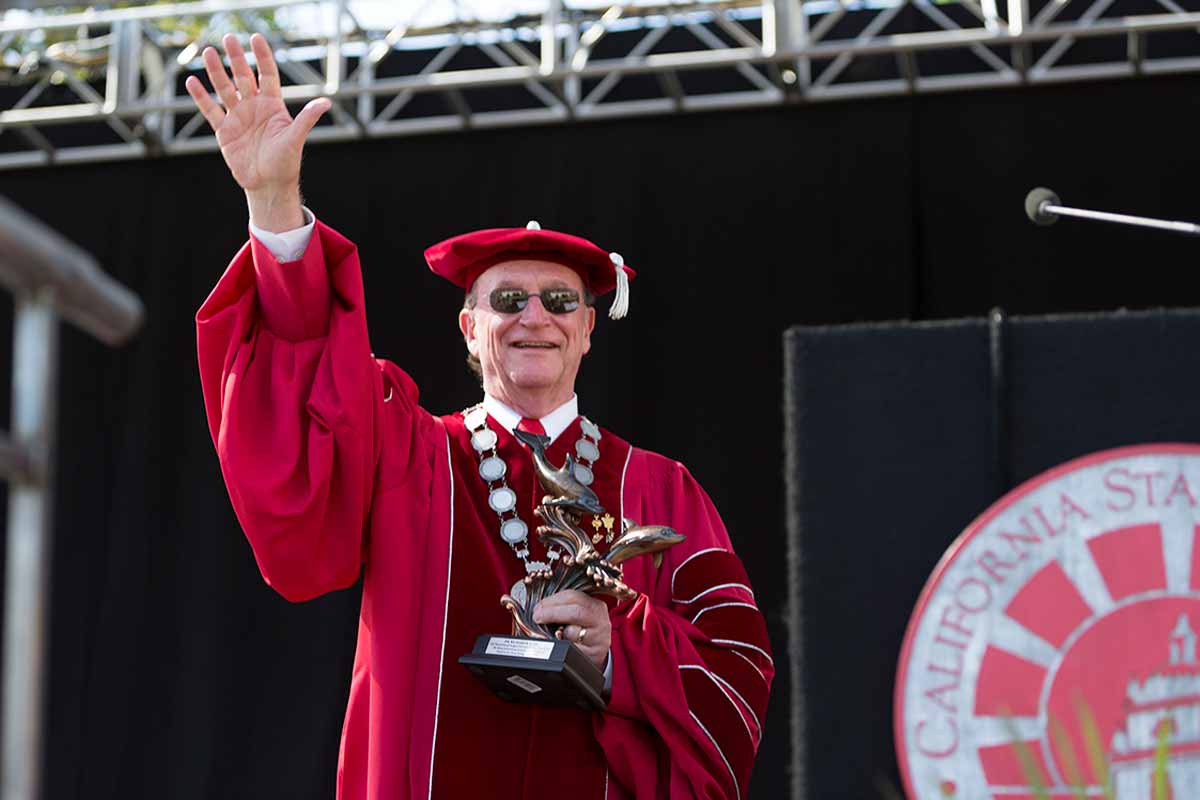 "President Rush will forever be memorialized for his role in establishing and building the reputation of our newest campus," said CSU Chancellor Timothy P. White. "He is leaving a lasting and living legacy of academic excellence that has not only made CI the campus of choice for graduating high school seniors and community college transfer students in Ventura County but also across the state."
Rush earned those triumphs against a grim economic backdrop. Seven years into his presidency, the Great Recession triggered significant cuts in funding for the CSU and growth plans for CI. Marshalling CI's entrepreneurial spirit, Rush led the campus to raise nearly $49 million in donations, more than $42.5 million for externally sponsored projects, and multiple public-private partnerships to advance programs and facilities, including CI's Nursing program with Cottage Health System, the Santa Rosa Island Research Station with Channel Islands National Park and CI's revenue-generating University Glen Corp.
You have been an amazing force for good!.

Lynda Weinman, Lynda.com

"Dick's entrepreneurial vision is way ahead of its time in higher education," said George Leis, Union Bank's head of private banking and chair of CI's Foundation Board. "He has built CI as a model of public-private partnership and makes everyone he meets enthusiastic participants in its success. When he tells us it's 'Your University,' he means it."
As Rush retires, he leaves CI 2025, an award-winning, comprehensive vision plan that frames CI's strategic, fiscal and physical growth for the next decade to accommodate more than 10,000 students.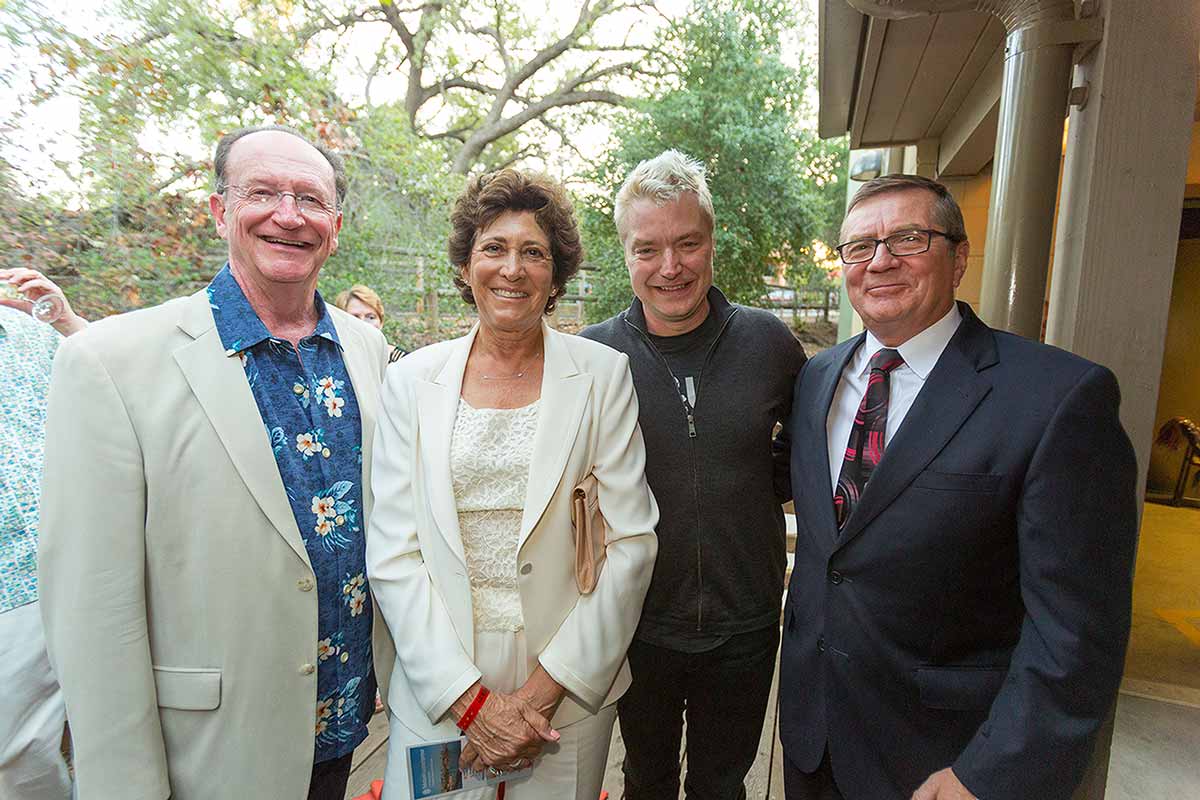 Partner in Progress
When discussing Rush's legacy, CI constituents unequivocally identify his wife, Jane, as an influence on the University's success. A retired professional fundraiser and former head of development for CSU San Marcos, Jane was a committed champion for CI as its first lady.
"In a very real way, Jane is a founder of CSU Channel Islands," said Nichole Ipach, Vice President for University Advancement. "Although some might not see the work that she does quietly and passionately to serve our students, she truly is a force that has created this institution. She volunteers her time and talents with a passion and dedication equal to those who work for the University."
Jane's volunteer efforts were instrumental in founding the University's Planned Giving program, which has secured approximately $10 million in commitments for academic programs and scholarships. She also has served as chair of the President's Dinner, an event that, under her leadership from 2012 to 2015, produced net proceeds totaling more than $560,000 to support the campus and its students.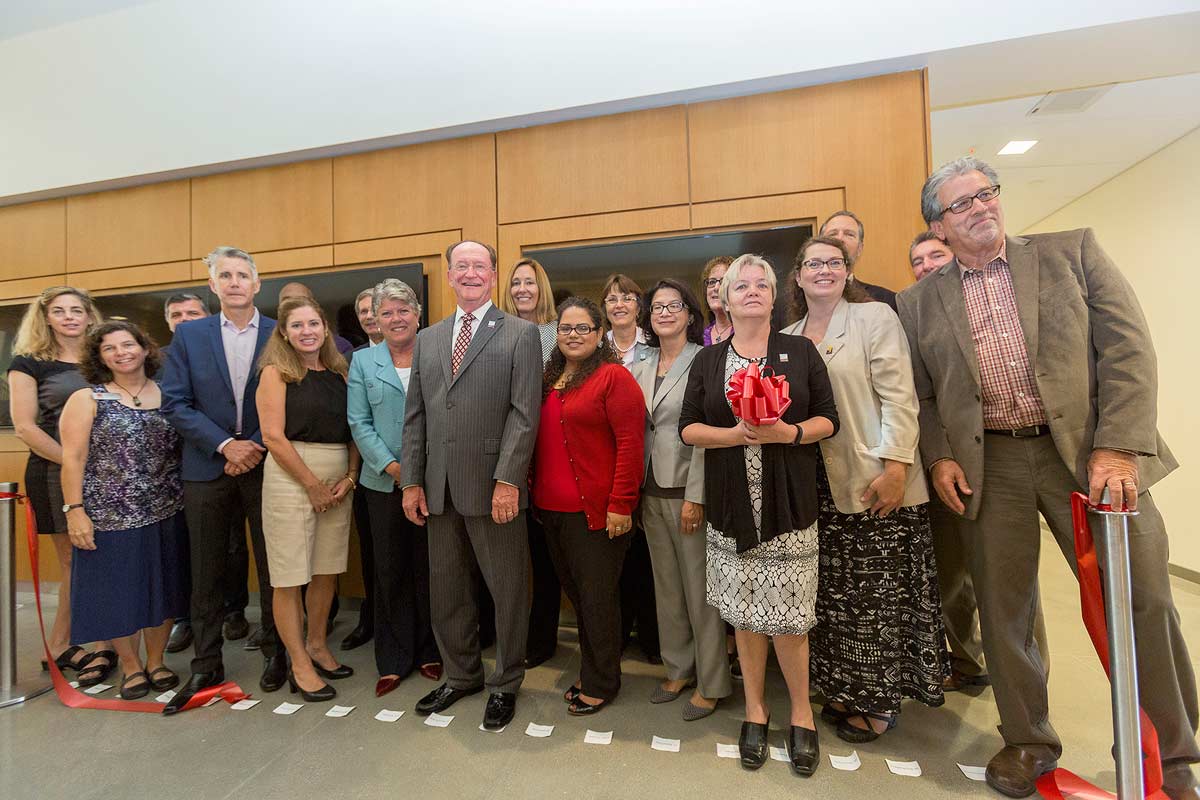 The couple's support of CI won't end with Dick Rush's retirement. Both Dick and Jane treasure deep connections to an extended family of CI students, alumni, employees, community partners and benefactors that will endure for a lifetime.
"People tell us, 'You guys are so busy, I won't call you,'" Jane said. "But we're both extroverts and we won't have a big, busy calendar in retirement. We hope people stay in touch. They enrich our lives, plus they're a lot of fun."
Forever a Dolphin
Fondly nicknamed "P. Rush"   —   analogous to P. Diddy  —  by students, Rush is admired for his charisma as much as his competence. He seizes opportunities to mingle, whether it's dining with students at Islands Café, hobnobbing at the Student Union or holding Pizza with the President. Never one to take himself too seriously, he gamely dons a chef's uniform to serve up grub at the staff and faculty barbecue or rock-star regalia for a Beatles-themed fundraiser.
"I learned so much about leadership from his example," said Student Government President Monique Reyna. "His approach is: 'We're here to serve you. What are your needs?'"
"He's genuine in his care for the students and their educational experience," said Shawn Mulchay, a 2008 graduate. "He only needs to meet students once to remember their names and greets them by name when passing in the hall. Always accessible. Always visible. Always curious as to students' thoughts and well-being."
Rush's retirement has elicited an outpouring of heartfelt wishes, such as one posted to his farewell website by 2014 graduate David Duran: "I will always remain proud of attending and graduating from CI. It was quickly evident to me that your genuine concern and leadership attracted only the best in administrators, educators and staff. Please know you will never be replaced; instead, you will forever be remembered as the positive light that led the way to establish and grow a university that sparked active change for the betterment of society."
Such expressions of gratitude leave Rush visibly moved and at an uncharacteristic loss for words.
"I've never really thought about myself in those terms," he said. "I often tell the faculty and staff they are leading significant lives because they are helping other people change theirs. When someone looks you in the eye and says, 'Thank you, you changed my life,' I find that deeply affecting."
© Spring 2016 / Volume 20 / Number 01 / Bi-annual