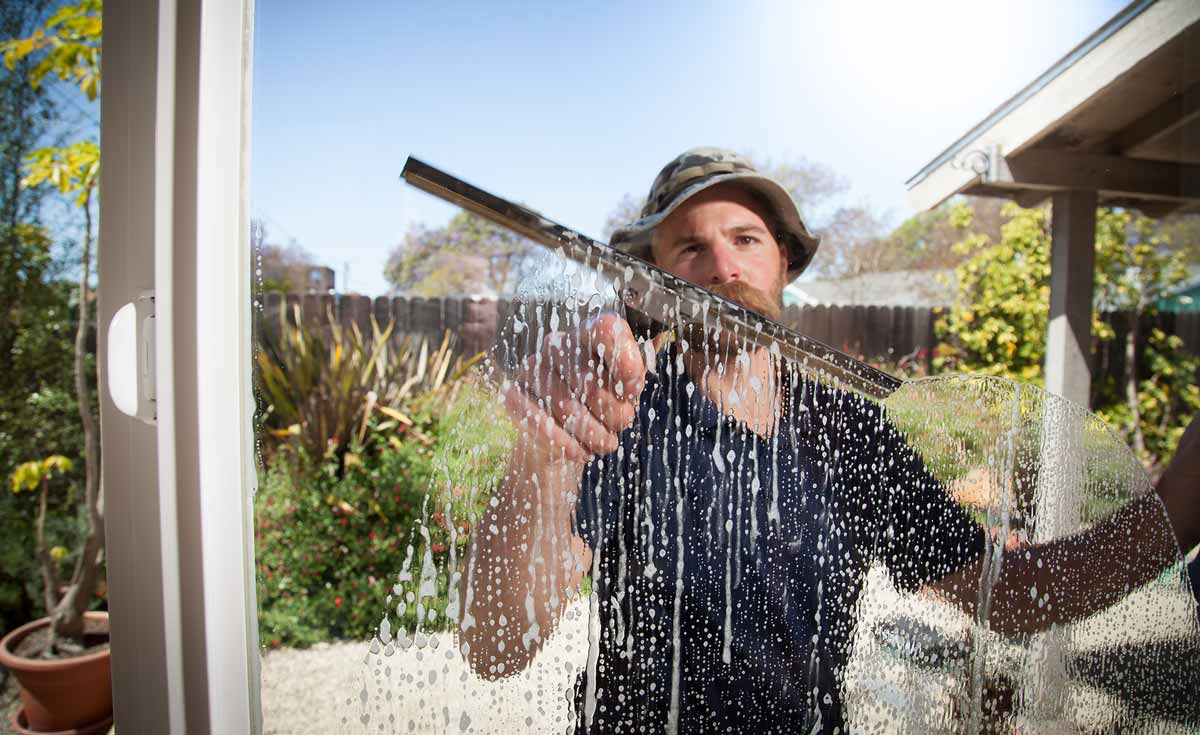 Dan Glassman, '10 B.A. Business, Economics '12 MBA
By Marya Jones Barlow
Photo © Chris Zsarnay Studios
If you believe in destiny, then Dan Glassman's future was foretold the moment he got his name.
After founding The Glass Man Professional Window Washing Company at the age of 19, Glassman took his business to the next level with the help of three degrees from CI.
"Starting my business young, before I reached CI, put me in a unique position," he said. "I was able to relate very well to what I learned in school and apply the ideas and solutions I learned immediately."
Today Glassman's company serves more than 500 residential and commercial clients in Ventura and Santa Barbara counties. Over the past 11 years, he's increased sales, revenues and staff while maintaining a hands-on, personal approach to his work. Though he oversees every aspect of his growing business — from sales and marketing to human resources, payroll and training  —  he remains active in the physical work of window washing.
"My office is my truck where I am on job sites five to six days a week, working with employees, communicating with clients and providing services," he said. Glassman fell into his profession by happenstance. In 2004, while working his way through Ventura College, he took a job as a window cleaner, but quickly became frustrated with the way he saw clients being treated.
"The company was so focused on volume and money that its work quality and client relationships were suffering," he said. "By 2005, I understood there was a need for better service in the window washing business. I also understood that I did not want to work for someone. I wanted to build a business and pay myself first."
The difference between a Harvard MBA and a CI MBA is just the name and the price tag.

Dan Glassman
Glassman enrolled in CI and proceeded to grow his company while double-majoring in Business and Economics. Energized by his undergraduate experience, he went on to earn an MBA in CI's program for working professionals.
"The difference between a Harvard MBA and a CI MBA is just the name and the price tag," he said. "My goal was to utilize my MBA to better my business; not to put it on a resume. I benefited from outstanding professors without the need to travel far."
He also discovered a passion for merging business goals with philanthropy. Glassman joined 1% for the Planet in 2010, and donates 1 percent of all gross revenues to environmental causes.
Glassman maintains ties to CI as a member of the CI Founders group, a professional networking group for business leaders and entrepreneurs. He also enjoys rock-climbing California's 14,000+-foot peaks, competing on the Ventura Water Polo Club's Masters team and tackling adventures in the backcountry and overseas. He has visited Israel 11 times and leads Birthright Israel trips that connect Jewish youth from the U.S. with Israeli culture and heritage. Earlier this year, he took a self-guided solo safari through Botswana.
Glassman's current focus is growing The Glass Man while maintaining its solid ethic and quality, and working as a consultant to help other small businesses.
"Dream big and get started," he said. "I saw an opportunity through window washing to make a difference and set an example of how a business should be run. Nothing is impossible, but you will have to work for it."
© Spring 2016 / Volume 20 / Number 01 / Bi-annual