By Zoe Lance
The Computer Girls is more than just a student group — it's an empowering community.
Established in 2014, the club provides a support network for women interested in pursuing careers in computer science. The members primarily participate in community service projects that help middle school and high school students, including CSUCI's Science Carnival. They also organize biweekly coding sessions and annual boot camps for the entire University community, volunteer for outreach activities and co-organize with other clubs to host guest speakers.
Computer Girls is comprised of nearly 60 members, some of which are men. Kristen Godinez, a graduating Computer Science student and the club's former president and vice president, says that the club's presence and diverse membership helps women on campus succeed.
"A lot of women leave the major because they think they're not good enough," said Godinez, who has been a part of the club since its inception. "We have a support network here that says, 'We're here for you, we've been through the same classes and we can help you get through them.' They know they can talk to us."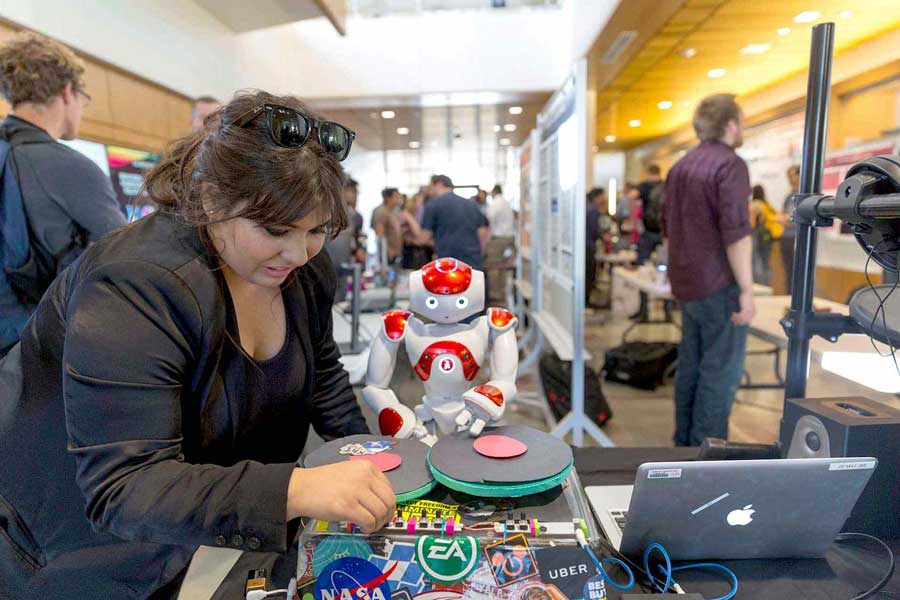 The club also sponsors professional development opportunities, so Godinez and her peers can attend conferences around the country and network with companies.
"It was only because of the club that I was able to attend and put myself out there," she said. "Companies reached out to me that I never thought I'd apply to, like Amazon, Google and Twitter."
Anna Bieszczad, a full-time lecturer in the Computer Science program and the club's advisor, has seen club members gain the self-confidence to apply for highly competitive graduate programs, internships and jobs.
"It is so heartwarming to see female students that are seriously considering changing their major, stay and blossom," Bieszczad said. "It's because of the powerful peer support that they have received through the club."
As a professional software engineer, Bieszczad experienced how tough it was to be one of the only women in a male-dominated field. When she first came to CSUCI, she also noticed that there were few women in the program. For Bieszczad, establishing Computer Girls is a point of pride.
"When we created the club, we strongly believed that it was very needed at CSUCI, but I never dreamed of the remarkable impact that it would have," she said. "The empowerment they feel, the self-confidence and the power of teamwork seems unstoppable."
© Spring 2017 / Volume 21 / Number 01 / Bi-annual