By Kim Lamb Gregory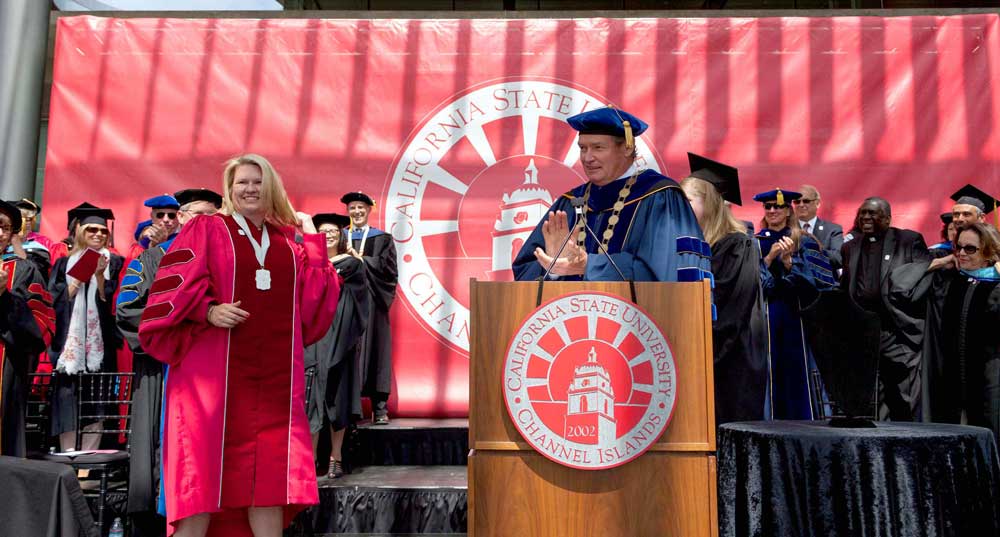 Erika D. Beck was formally recognized and celebrated as the new President of CSU Channel Islands at an investiture ceremony held May 5 in front of the John Spoor Broome Library.
Rich with tradition, an investiture is defined as a "formal ceremony conferring the authority and symbols of high office." It is held during or at the conclusion of the new president's first year in office.
Among the numerous academic dignitaries, including CSUCI President Emeriti J. Handel Evans and Richard R. Rush, presidents from other CSU campuses, as well as delegates representing academic institutions as professors, staff and alumni, participated in a formal procession dressed in cap and gown regalia.
The tradition has symbolized the pursuit of knowledge since the Middle Ages, and it survives in modern times as an opportunity to welcome a new era and wish the new president well.
The ceremony began with Academic Senate Chair and Professor of Mathematics Cynthia Wyels carrying the CSUCI mace, a ceremonial staff carved from native walnut and crowned with a pair of dolphins, reflecting the Chumash legend of the dolphins who led the Chumash from the Channel Islands to the mainland.
Joining in the procession were CSU Chancellor Timothy P. White as well as members of the CSU Board of Trustees and other special guests.
Chancellor White praised CSUCI as a "jewel on the coast."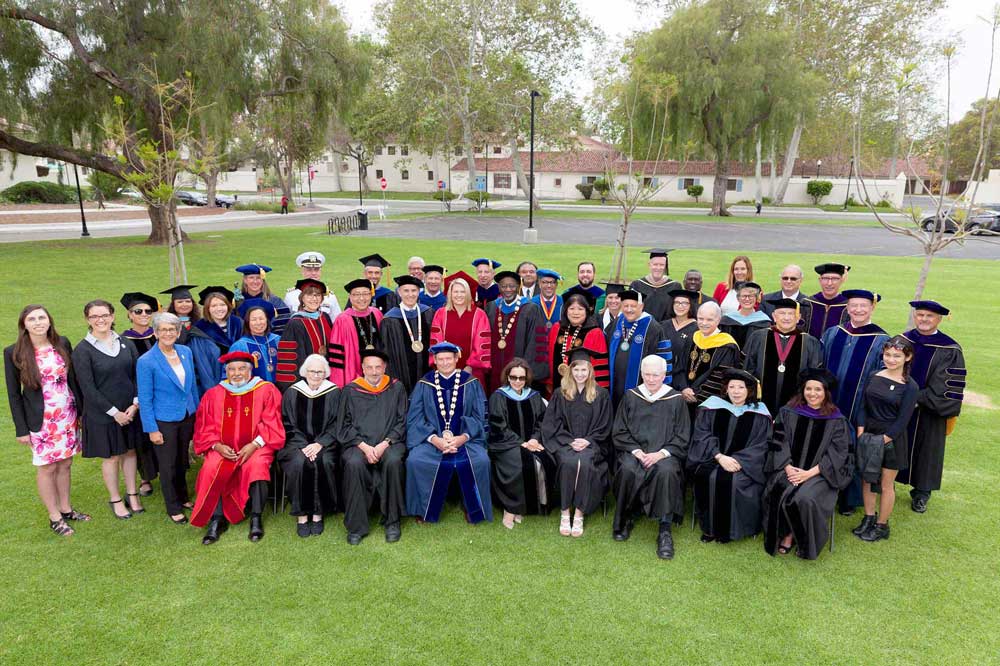 "A university grown from the footprint of buildings established as part of FDR's New Deal has since emerged from its former role into a world class center of discovery, achievement and of excellence through inclusivity."
CSU Chico President and former CSUCI Provost Gayle Hutchinson congratulated President Beck at the podium along with Alumni & Friends Association Chair Gary Cushing, '10 B.S. Political Science; inaugural Staff Council Chair Rosario Cuevas; Student Government President Michelle Noyes; CSU Student Trustee Maggie White; CSUCI Foundation Board Chair George Leis; and several others, including President Beck's sister, Nicole Beck, President and CEO of 2nd Nature, LLC.
My boys like to tease me that I went to college and I never left. And that has served the underpinnings of the great
joy of my career.

Erika D. Beck

As siblings are prone to do, the eldest Beck daughter treated her younger sister to some good-natured ribbing.
"As a middle child, I'm sure she's spent some time studying the middle child syndrome," Nicole said, referring to her sister's background in behavioral psychology. "The oldest is the center of attention and the focal point…capable, confident, responsible, strong, overachiever," Nicole grinned and looked back at her sister, who was laughing.
On a more serious note, Nicole Beck referenced their late mother, who had a tremendous impact on the academic future of her three daughters, two of whom earned doctorate degrees and one who became an attorney.
The high point of the ceremony was when Chancellor White draped a custom-designed President's Medallion on the shoulders of CSUCI's new President to a wave of applause. The medallion had a white and silver art deco design with a pearl in the center, to signify the pearls President Beck's mother gave her before she passed.
"From the time that I was very young, my mother taught me that the world was a place to foster my inherent curiosity, and that I should set about discovering it," Beck said when she took the podium. "And from the moment I stepped foot on a college campus with my mother by my side, I knew she was right. My boys like to tease me that I went to college and I never left. And that has served the underpinnings of the great joy of my career."
© Spring 2017 / Volume 21 / Number 01 / Bi-annual