To see Joe Mendoza receive the honorary doctorate visit http://go.csuci.edu/mendoza
By Kim Lamb Gregory
Joe Mendoza first learned the value of education when a dedicated truant officer would drive onto the Oxnard fields where 10-year-old Mendoza and his friends were picking fruit.
"She would drive an old Model A and pick you up if you should have been in school," Mendoza said. "She'd put you in the car and take you to school."
More than 70 years later, Mendoza stood on the stage at the CSU Channel Islands 2017 Commencement ceremony on May 20 while President Erika D. Beck presented him with an Honorary Doctor of Humane Letters.
The doctorate was to honor his 60 years of helping immigrants and other underserved populations into the halls of higher education, often at CSUCI. 
Mendoza has been a teacher, an administrator, speaker and advocate for thousands of migrant students. He is now the Director of the Special Populations Educational Department for the Ventura County Office of Education.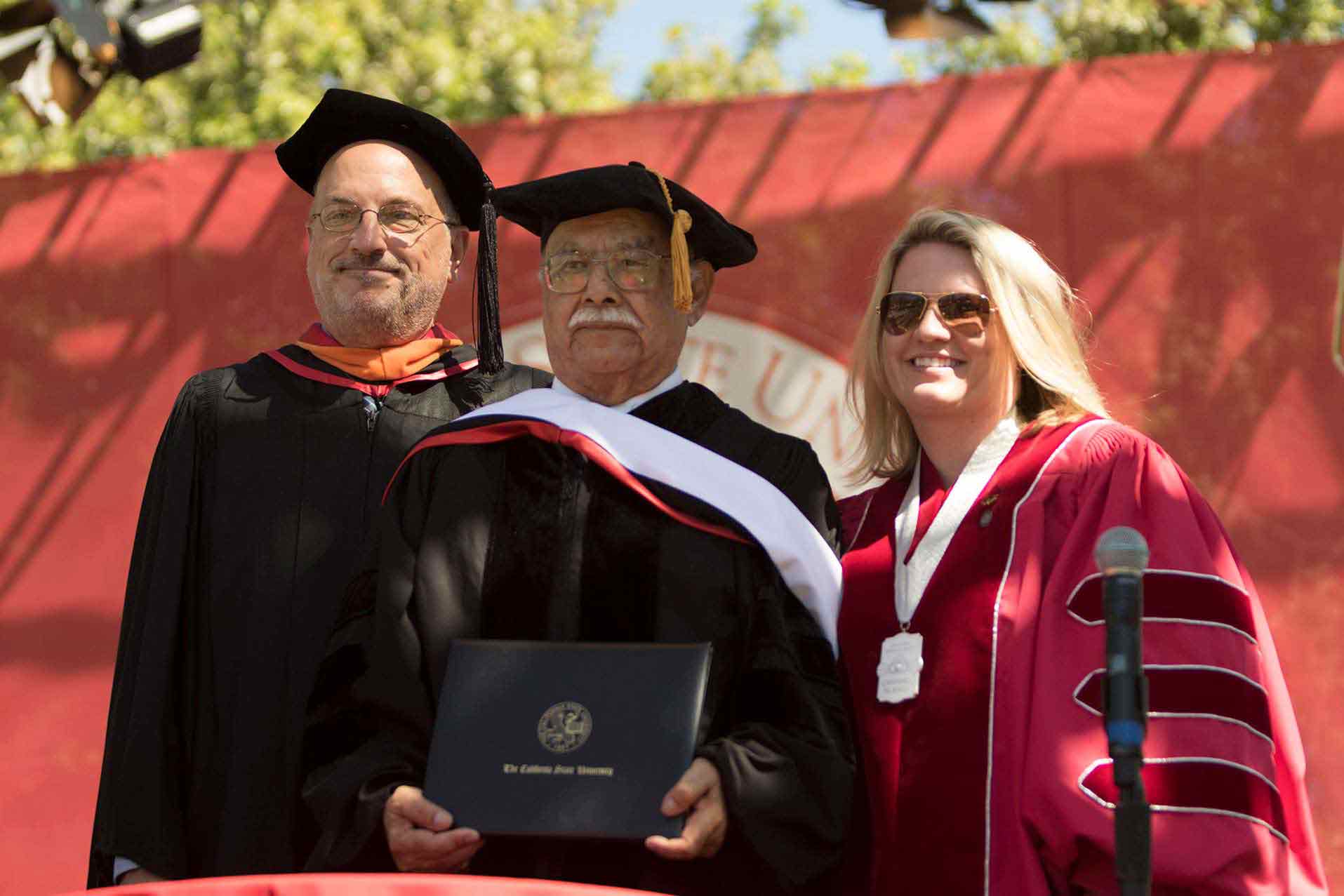 "It's no exaggeration to say that Joe is a local legend when it comes to advocating for migrant students as well as other special populations, such as homeless and foster youth," said Ventura County Superintendent of Schools Stan Mantooth. "With a big heart and unflinching determination, he has helped countless young people overcome the odds to achieve success in both school and their careers, making them part of the fabric of our community."
Stanford University graduate Erika Hernandez who holds a master's degree in education, is one of the migrant students who benefited from Mendoza's programs.
Hernandez grew up in a small village in Mexico, one of six children.
"There was no flushing toilet, there was no electricity," she said. "You didn't know if there was going to be food on the table when dad migrated north to work in the fields." 
The family moved to Oxnard when Hernandez was 10, and she attended school and enrolled in Mendoza's migrant programs. She joined his first speech and debate team for migrant students and "Saturday School," in which she and other migrant children could catch up with their education.
She earned a Gates Millennium Scholarship to Stanford and later worked in Washington D.C. at the Office for Civil Rights during the Obama administration.
She said she owes so much to Mendoza.
"When he goes and speaks, he tells you he believes in you," he said. "You can become whoever and whatever you want."
CSUCI graduates cheered when Mendoza spoke to them during Commencement, praising both graduates and faculty members.
"You are teachers, but you do more than impart knowledge," he said.  "You create citizens of the future. You create the people who are going to sustain and carry on this great idea called the United States of America." 
© Spring 2017 / Volume 21 / Number 01 / Bi-annual