By Zoe Lance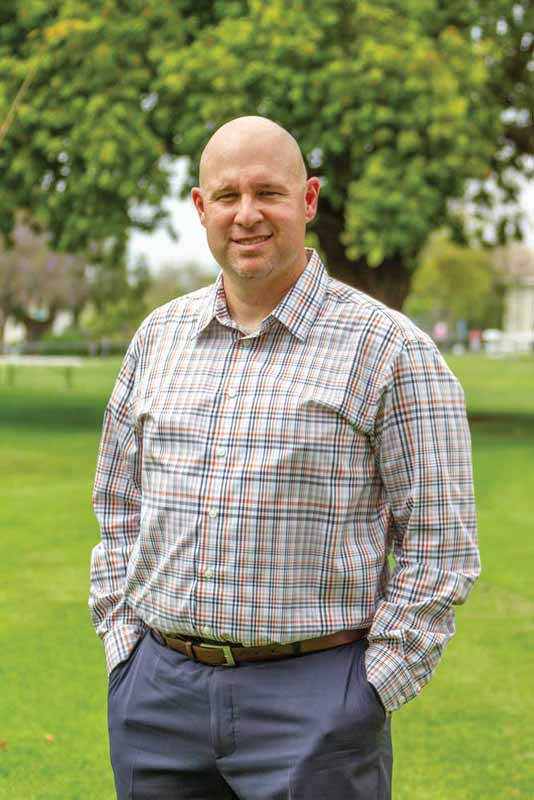 Whenever there's a tough property appraisal to make, Adam Johnson is the person his colleagues turn to. They know that he just received a Psychology degree from CSUCI and his training is a powerful asset to their work in valuing real estate and understanding their clients.
"They'll ask me, 'How can we look at this from a psychology perspective? What would be your take?' And it's funny, because you wouldn't think that there's an application for psychology in something like real estate appraisal," Johnson, who works as the office manager, said. "But I've found that I'm able to bring in a new perspective that they may otherwise not see."
This ability to employ what he's learned in the classroom is a dream come true for Johnson. Through CSUCI's Psychology program at the Goleta campus, he was able to go from community college courses to a bachelor's degree in just 20 months. He is seriously considering graduate work in psychology and is staying involved with the Santa Barbara City College program as a tutor.
Johnson's pathway to a degree took many twists and turns. Enrolling in college for the first time 20 years ago, he picked psychology as his major — a subject he calls his first love. He's always enjoyed observing and analyzing people's relationship dynamics and group behavior.
However, a rough patch in his life, which resulted in incarceration, threatened to derail his future.
"I knew that I had the skills and ability to be successful, but it was very challenging to go into a job interview and not be able to get past the application process," Johnson said. "When you have that background, you never know when you're going to hit a roadblock."
Johnson worked full time to provide for his family but knew that he wanted to go back to school and finish a degree. He says that CSUCI helped him reconsider pursuing psychology and reshape his own self-image.
"I was able to obtain a new identity," he said. "I look in the mirror and see myself as Adam Johnson, a successful college graduate."
He dove into CSUCI's program, immersing himself in class projects, conducting research and volunteering for new student orientation.
"Adam was one of the brightest students in his group," said Kimmy Kee-Rose, an Associate Professor in the Psychology program who taught Johnson. "When he had academic challenges, he overcame them and adapted well — he's self-motivated and hardworking. I have a high opinion of Adam."
Johnson credits the program for his strides in personal growth. He says that there's a need to talk about the stigma that previously incarcerated people face as they reintegrate into society. His hard work at CSUCI challenges those perceptions.
"Everything I did at CSUCI not only changed my academic understanding of psychology, but who I was as a person," he said. "I will always have a very soft spot in my heart for the CSUCI program. I am very grateful for the opportunity to share my experience."
Return to the Table of Contents
© Spring 2018 / Volume 22 /Number 01 / Bi-annual