Alexis Mumford reflects on being Student Government Vice President
By Zoe Lance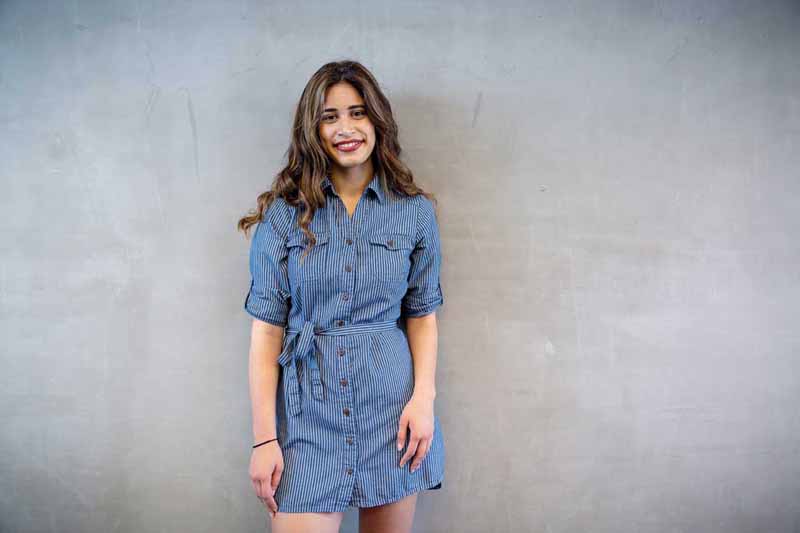 The 2017-18 academic year has been a series of both personal and professional challenges for Alexis Mumford.
In serving a term as Student Government Vice President, the recent Communication graduate spent countless hours on events, projects and legislation to make the organization's inner workings more visible to the campus community. She was responsible for working closely with the senators and fielding feedback from students on what Student Government could do better.
But she was also at the frontline with her peers on issues affecting the CSUCI community, Ventura County and beyond, including the catastrophic Thomas Fire and the precarity of the Deferred Action for Childhood Arrivals program. She worked hard to put on events, make announcements and share resources with students. To her, being engaged in this work was her utmost priority and she's proud to have played a role in the University.
"I've always been the type of person who cares about other people and had a strong passion to stand up for what's right," she said. "Before joining Student Government, I felt like I always had the qualities to be a leader. Now I have the confidence in myself to be one."
When she arrived at CSUCI in fall 2014, Mumford had little interest in getting involved on campus. The Oxnard native had a connection to CSUCI — her mother, Monica Rivas, is an advisor in the Academic Advising office — but Mumford would come to school and go home. Being a part of campus life seemed impossible.
A chance conversation with a classmate who was part of the Student Government organization changed everything.
"They told me that Student Government needed more students to become involved, so I decided to join," Mumford said. "During the interview, I heard about an opportunity to be director of events. I immediately thought, 'That's what I want to do.' I could either complain about things on campus, or I could actually get involved and do something about it."
After serving in the event planning role for two years, she ran for vice president, knowing she wanted to take on more projects and be a support system for her peers. Learning from past Student Government administrations helped her understand how to be an effective leader.
"Being vice president gave me the experience to navigate tough situations," she said. "I appreciated the way people were able to engage with me in difficult conversation without fear."
Mumford also is proud of the work student leaders did around basic-needs initiatives and an in-progress project for a bike rideshare program.
"The biggest lesson Student Government taught me was to see issues from multiple perspectives," she said. "Because of the coordination we did, I was able to take concerns into consideration and bring in new ideas from our constituents."
After graduating on May 19 with a B.A. in Communication, Mumford participated in a three-day American Committees Foreign Relations Young Leaders Initiative conference in Washington, D.C. — one of only 15 students from across the nation. Mumford is considering career paths in public service and event planning.
As she looks back at the last four years, she appreciates the opportunities she had to be involved and make real change on campus.
"CSUCI is a really great place, and I'm happy to see it grow," Mumford said. "I am really proud to be a Dolphin."
Return to the Table of Contents
© Spring 2018 / Volume 22 /Number 01 / Bi-annual